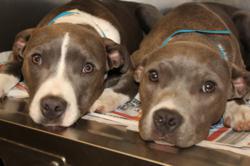 Completing 10,000 surgeries confirms Spay4LA's dedication to spay/neuter efforts in the LA area
LOS ANGELES, CA (PRWEB) October 19, 2012
Spay4LA mobile clinic, Los Angeles' premiere mobile provider for accessible and affordable spay and neuter services, this month celebrated its 10,000th surgery since opening in September 2010. The milestone surgery took place on Thursday, October 12th outside the South Los Angeles Animal Shelter. Jose Rivera, proud parent of pit-bull puppies Corbata and Guardián, was the recipient of the free 10,000th surgery for Corbata and a gift bag containing flea medication, shampoo, vouchers for future vaccinations, toys, treats and more. He received a free neuter for Guardián as well, Spay4LA surgery number 10,001.
Rivera expressed his appreciation for Spay4LA stating he couldn't have had the surgery for both dogs that day if it weren't for the free surgeries and location. He went on to say, "What they are doing is so important; there are a lot of strays around my neighborhood."
The milestone surgery coincidentally happened just before Spay4LA will move with the South Los Angeles Animal Shelter to a new state-of-the-art facility. Residents in zip codes 90001, 90003, 90011, 90018, 90037 and 90044 are eligible for free surgeries while supplies last. These free and low-cost spay and neuter surgeries could not have been made possible without the generous funding from the many Spay4LA grantees, with special thanks to the Petco Foundation for their most recent grant renewal and all other grant partners that made this possible; PetSmart Charities, Best Friends Animal Society NKLA initiative, Found Animals Foundation, The Jason Debus Heigl Foundation (JDHF), and The Coalition for Pets and Public Safety.
"Completing 10,000 surgeries confirms Spay4LA's dedication to spay/neuter efforts in the LA area," said Aimee Gilbreath, Executive Director of Found Animals Foundation and Spay4LA Board Member. "We will continue our support of free and low-cost, accessible surgeries for pet guardians in South LA and look forward to seeing Spay4LA keep the momentum going."
Spay4LA and the South LA Animal Shelter will continue offering spay and neuter and adoption services at the current location until October 21st. All six Los Angeles City Shelter locations will be offering reduced adoption fees on October 20th and 21st, with special discounts for South LA due to the move. On Monday, October 22nd, both providers will move to their new, unprecedented space designed by architect Rania Alomar and profiled in the Los Angeles Times located at 1850 W. 60th Street, Los Angeles 90047.
For more information about Spay4LA's commitment to providing low-cost, affordable surgeries as well as reducing unnecessary euthanasia, contact Jessica Jeurink at (310) 574-5559.