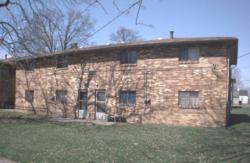 Columbus, OH (PRWEB) October 19, 2012
Buyers have the opportunity of a lifetime to purchase an apartment complex and an office/warehouse property in Columbus, Ohio, at auction prices. Gryphon Auction Group, with Borror Properties, will offer these properties for competitive bidding during two Halloween auctions on Wednesday, Oct. 31.
The first event is a Foreclosure Auction of a small apartment complex at 937, 943, 947 and 953 Rarig Ave., Columbus, Ohio. The property features 16 units in 4 individual buildings on .56± acres. Each unit is 2BR / 1BA with monthly rents estimated at $400-$500 per unit. The minimum bid of 2/3 of appraised value for this property is $164,666.
The second event is a Receiver's Auction of an office/warehouse location immediately adjacent to the Franklin County Fairgrounds at 1608-1624 Clara Ave., Columbus, Ohio and features a 12,120 +/- SF foot office/warehouse containing two suites on about half an acre. Suite A is approximately 7,260 +/- SF with five private offices, two conference areas and an open area for cubicles. Suite B includes approximately 4,860+/- SF with 1,200 +/- SF of office space. Warehouse sections include 14-foot ceilings, gas heat, three drive-in doors and 120/240 volt, single phase power.
The day will begin at 10:30 a.m. at 947 Rarig Avenue and second auction will take place at 12:30 at 1608-1624 Clara Avenue. Registration for both events will begin one hour prior to the stated auction times. Interior property inspection of Clara Ave. will occur on Tuesday, Oct. 23 between 10 and 11:30 a.m. Rarig Ave. inspections are exterior only and can be conducted any time.
Property details, photos and terms and conditions can be found at GryphonUSA.com and http://www.GryphonAuction.com. Auctioneer Richard Kruse can be contacted at 614-885-0020 x 17 or by email at rfk (at) gryphonusa (dot) com.
About Us
Gryphon USA, Ltd. is a multi-faceted asset management and liquidation firm focusing on the operations and dissolution of single assets through and including entire companies. Gryphon maintains a receivership and asset management group commercial auction practice art, antique and pottery auction group and real property management group. Real estate transactions are managed through Borror Properties Real Estate.
Melissa M. Kruse oversees the day to day operations of the parent company, Gryphon USA, Ltd. while Gryphon Asset Management operations are managed by Richard F. Kruse. Auction operations are directed by Peter Gehres and Borror Properties is managed by Lori Steiner.