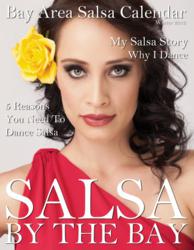 We are very excited to release this high quality magazine and promote salsa dancing in the Bay Area.
San Francisco, CA (PRWEB) October 19, 2012
Salsa dancing has always been incredibly popular in the SF Bay Area, and now salsa afficionados will have their own official magazine-- Salsa By The Bay.
Salsa By The Bay is currently a website that serves as a central source for all things salsa in the Bay Area. Whether it's information about salsa lessons, salsa instructors, or upcoming salsa events, Salsa By The Bay has provided the most up-to-date information out there, in an easily digestable format. Now Salsa By The Bay is looking to move from the web to print media with their upcoming magazine.
"Salsa By The Bay has been very successful at reaching people interested in salsa, both through our website and our Facebook page," says Salsa By The Bay co-founder, Takeshi Young. "However, we wanted to go beyond the web, and reach out to people in the real world in places like coffee shops, night clubs, and dance studios."
The magazine, currently going through the printing process, features high quality photos and short articles designed to entice readers to give salsa dancing a try. Some of the headlines from the first edition of the magazine include: "My Salsa Story: Why I Dance", "5 Reasons You Need To Dance Salsa", and "Top 10 Salsa Songs".
"Salsa dancing is an incredible hobby that can have the potential to change your life," says Salsa By The Bay co-founder Max Shpungin. "I know salsa has had a huge impact our lives, and we wanted to share that with as many people as possible."
The initial run for the magazine will be several thousand copies, which will be distributed around the Bay Area, mostly focused around Oakland, San Francisco, and San Jose.
In addition to promoting salsa dancing in general, the magazine will also be promoting a number of upcoming salsa events in the Bay including the San Francisco Salsa Congress in November, which is one of the largest events of the year, bringing together over 8,000 dancers from around the world.
"The salsa community here in the Bay Area is one of the largest in the world," says Takeshi. "There are more dancers here than anywhere else in the US, except maybe LA or New York. It's an incredible community to be a part of, and we hope to grow that community."
"Salsa isn't just a dance, it's a lifestyle," says Max, "and we're excited to share this experience with the Bay Area."
The first issue of Salsa By The Bay magazine will be released in late October. Distribution locations for the magazine will be published on the Salsa By The Bay website as well as their Facebook page.