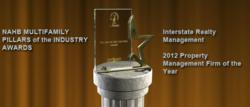 Most impressive is IRM's sustained commitment to excellence
Marlton, NJ (PRWEB) October 23, 2012
Interstate Realty Management Company (IRM) has been named the 2012 Property Management Firm of the Year by The National Association of Home Builders (NAHB), the country's leading trade group for the housing industry. This prestigious national award recognizes superior leadership in multifamily housing management and property operations, including financial performance, and a commitment to customer service, resident promotion and retention, and professional training and development opportunities for employees.
IRM provides property management to The Michaels Development Company's entire portfolio of multifamily communities and fee-manages properties for other owners.
"We are delighted that IRM has been recognized with this tremendous honor," said Mark Morgan, president of Interstate Realty Management. "Each and everyone of our employees, on site and those working in our district and corporate offices, raise the bar for excellence every day, so this wonderful recognition belongs to all of them."
In announcing the award to IRM, which is one of the first management companies that specializes in affordable housing to be bestowed this high honor, NAHB cited several specific achievements. These accomplishments include IRM's unrivalled leadership in the management of Section 8 housing, as well as mixed-income, tax credit and public housing and the company's extraordinary success, including strong financial returns, across a portfolio that encompasses more than 300 properties in 25 states, the District of Columbia and the US Virgin Islands.
In addition, the NAHB noted IRM's successful transition of more than 90 new properties into its portfolio following The Michaels Development Company's acquisition of the PAM Companies portfolio in California, as well as its consistently high occupancy rates, and its best practices in supportive services.
"Even more impressive than its exponential growth over the past year is IRM's sustained commitment to excellence," said Sharon Dworkin Bell, senior vice president of Multifamily for NAHB. "Nearly 40 years after welcoming their first residents, IRM's dedication to long-term success and to creating value for its residents and its property owners has never wavered," she said.
Property Management Firm of the Year is one of the top honors bestowed annually through NAHB's prestigious Pillars of the Industry Awards program. In 2010, The Michaels Development Company was named the Development Firm of the Year by NAHB. Both IRM and Michaels Development are part of The Michaels Organization, a family of eight intregrated by independent operating companies, dedicated to excellence in affordable, mixed-income, military and student housing.
About The Michaels Organization
The Michaels Organization is a family of eight integrated but independent companies dedicated to excellence in affordable, mixed-income, military, and student housing. Our mission is to create attractive residential communities for families, seniors, military service members, and students that stand the test of time and that are managed to maximize long-term value for residents as well as investors. Serving more than 100,000 residents in 340 communities across 33 states, the District of Columbia, and the U.S. Virgin Islands and with a development portfolio valued in excess of $3 billion, The Michaels Organization is a national leader in the residential real estate industry, with full service capabilities in development, property and asset management, construction, mortgage finance, and tax credit syndication.