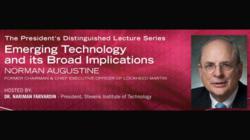 (PRWEB) October 19, 2012
Stevens Institute of Technology is Proud to Host Norman Augustine, Inaugural Speaker for the President's Distinguished Lecture Series
What: Norman Augustine, Former Chairman & Chief Executive Officer of Lockheed Martin, to speak about "Emerging Technology and its Broad Implications"
New technologies are revolutionizing our lives, and the greatest changes still lie ahead. Along with the many benefits are the hidden, unforeseen consequences that will profoundly impact institutions that have been largely unchanged for decades or even hundreds of years. How are America and Americans likely to fare in this new world disorder, and what might we do to improve our chances?
The President's Distinguished Lecture Series focuses on important topics in science and technology, the linkages between societal issues and advances in science and technology, and related policy issues. The Series is designed to keep Stevens front and center in academic and policy discussions critical to the nation, on topics such as green energy, advanced biomedical devices, cybersecurity, health information technology, next-generation wireless systems and social media technologies.
Hosted by Dr. Nariman Farvardin, President, Stevens Institute of Technology
WHEN & WHERE:
Wednesday, October 24, 2012 (3 p.m.)
Stevens Institute of Technology
DeBaun Auditorium, 500 Hudson Street Hoboken, NJ 07030
WHO:

Distinguished Speaker: Norman Augustine, Former Chairman & Chief Executive Officer of Lockheed Martin
Dr. Nariman Farvardin, President, Stevens Institute of Technology
Additional info can be found here.
Media Contact: Please RSVP to Danielle Woodruffe, Director of News and Media Relations at danielle.woodruffe (at) stevens (dot) edu (617)785-0433 or Meagen Henning at (201) 216-5166.