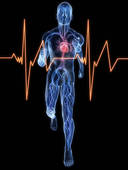 Unfortunately, many high school athletes do not have access to an athletic trainer and the responsibility to administer care falls on the team coach or athletic director.
Harrisburg, PA (PRWEB) October 19, 2012
After Governor Corbett signed House Bill 1610 (Sudden Cardiac Arrest Prevention Act) on May 30, 2012, Pennsylvania became the first state in the nation to enact legislation protecting student athletes from Sudden Cardiac Arrest (SCA). As a result of this law, coaches, parents, and athletes in the Commonwealth are now required to complete an educational session about SCA. Since the inception of these guidelines, the Pennsylvania Athletic Trainers' Society (PATS) has offered Sport Safety International's online training program CardiacWise to these individuals free of charge. To date, more than 800 individuals have turned to PATS and CardiacWise to educate themselves regarding SCA.
Although the fall sport season is in full swing, SCA is often an afterthought for coaches, parents, and athletes… even with an increase in educational efforts set forth by House Bill 1610. SCA is an uncommon, yet undeniable reality for some participants in athletic activities. The risk is greater for males, than females, and even greater for African American males. Regrettably, the first indication of an underlying cardiac condition that may predispose an individual to SCA is most often an episode of SCA. Therefore, preventative steps should be implemented to identify "at risk" individuals, establish emergency procedures, and ensure availability of on-site medical care for practices and athletic events.
Pre-Participation Examination (PPE)
The PPE performed annually or biannually should include the completion of a standardized form addressing episodes of exercise intolerance, chest pain, a personal or family history of SCA, family history of sudden death of an immediate family member, exertional syncope (fainting) or near syncope. The American Heart Association released a 12-point PPE cardiovascular screening tool for competitive athletes based on the medical history and physical examination in 2007. Although the PPE may not identify the presence of all conditions that may contribute to SCA it has been shown to be very effective in identifying many of them, therefore minimizing risk.
Emergency Preparedness
For each instance of athletic activity—game, practice, conditioning session—an emergency action plan (EAP) should be established and an annual review of the EAP should occur with all involved individuals. The EAP organizes the emergency management process should an episode of SCA take place. Everyone needs to know where to locate/how to use an AED (automatic external defibrillator), how to contact emergency personnel, how to perform CPR and first aid, and how to direct emergency personnel to the victim. Casa et al. (2012) note that "prompt resuscitation of young athletes with sudden cardiac arrest maximizes [the] survival rate".
On-Site Medical Care
A majority of collegiate and professional sport teams have the constant presence of athletic trainers who are trained in the recognition of signs/symptoms of SCA and the rendering of proper care for SCA, in addition to multiple other medical conditions and injuries. Unfortunately, many high school athletes do not have access to an athletic trainer and the responsibility to administer care falls on the team coach or athletic director. In this case, those individuals should be certified in first aid, CPR, and use of an AED. On-site medical care can be greatly enhanced by the employment of a licensed athletic trainer. Coaches and athletic directors do not possess the advanced knowledge and emergency management skills inherent in an athletic trainer's skill set, nor should the sole responsibility to provide emergency care rest with a coach or athletic director.
In summary, SCA can be a devastating and life altering experience. A thorough PPE is currently the best way to potentially identify pre-existing conditions that may lead to SCA. The on-site presence of a licensed athletic trainer—a healthcare provider specifically trained to provide the proper care for a SCA episode in the athletic setting—and a well-designed EAP are critical components that can increase the chance of survival for a victim of SCA.
# # #
For more information regarding this topic or to schedule an interview with PATS President Yvette Ingram, PhD, LAT, ATC, please contact Tim Doane, MA, LAT, ATC at publicrelations(at)gopats(dot)org.
The Pennsylvania Athletic Trainers' Society, Inc. is a progressive organization of licensed health care professionals who work under the direction of a licensed physician. Our society continues to increase public awareness and education regarding Athletic Trainers and the Athletic Training profession while serving as the premier source of information for public safety, injury and illness prevention, early intervention, patient care, and healthcare delivery for the physically active in the Commonwealth.
"The Keystone to a Healthy and Physically Active Life"