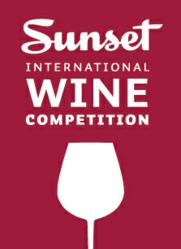 Menlo Park, CA (PRWEB) October 22, 2012
Sunset magazine (http://www.sunset.com) is proud to announce the success and results of the first-ever Sunset International Wine Competition. With 2,837 entries from around the world in its inaugural year, Sunset can proudly claim the most successful launch of a wine competition in the U.S.
The competition is featured in Sunset's November issue, and a handy pull-out guide of Gold, Silver, and Best-of-Class winners, which is inserted into 500,000 subscribers' magazines. Complete results of Gold, Silver, Bronze, and Best-of-Class are available at http://www.sunset.com/siwc-winners. Additional exposure to the large and passionate Sunset audience includes:

Sunset International Wine Competition Grand Tasting and Dinner, which drew a sell-out crowd as part of Sunset's SAVOR the Central Coast wine and food event on Sept. 29,2012
Starting with November shipments, the popular Sunset Wine Club (http://www.sunsetwineclub.com) will select all medal-winning wines from the competition, perfectly paired with kitchen-tested Sunset recipes. Members will get the complete printed guide as well.
Additional Sunset editorial coverage and pouring opportunities will be held throughout the year.
Sunset gathered 52 expert judges from around the West to evaluate wines from across the U.S. and all of the World's greatest winemaking regions, including France, Spain, Italy, Chile, Argentina, Austria, Australia, New Zealand and South Africa. The judges, who represented three categories—winemakers, trade and education, and journalists—assembled at Sunset's Northern California headquarters on July 9 and 10, 2012. Judges were led by an esteemed group of honorary chairs:

Honorary chair, winemaker judges: Joel Peterson, founder and winemaker of Ravenswood Winery
Honorary chair, trade and education: Tim Gaiser, MS, former Education Chair for the American Chapter of the Court of Master Sommeliers
Honorary chair, journalists: Sara Schneider, Sunset wine editor
With exclusive glassware provided by Eisch USA in hand, the judges narrowed down the gold, silver and bronze medalists, according to a judging process committed to the highest possible integrity, fairness, and expertise.
Winners of the Sunset International Wine Competition will gain invaluable exposure to the most passionate and active wine drinkers and buyers in the country:

With a monthly Western audience of 4.7 million in print and 1.3 million visitors online, Sunset is the leading media brand in the Western U.S., a region that consumes more wine than anywhere else in the country.
Westerners are 54% more likely to drink wine weekly or more often than the average U.S. consumer; Sunset readers are 362% more likely to drink wine weekly or more often than the average U.S. consumer.
Sunset has the largest concentration of wine drinkers for a media outlet in the U.S.
Sunset readers consume 9,164,000 glasses of domestic wine and 1,740,000 glasses of imported wine in an average week!
Sunset is highly influential: 99.5% of readers take action on a recommendation after reading Sunset.
In order to ensure the competition's logistics and database ran smoothly, Sunset partnered with Rebecca Murphy of the Dallas Morning News and TexSom International Wine Competition. Paul Wagner and Balzac Communications ensured representation from the best winemakers in key wine regions in the West and around the world.
Editors available for interviews.
About Sunset magazine
Sunset magazine was founded in 1898 and has become the premier guide to life in the West, covering the newest and best ideas in Western home design and garden, food and entertaining, and regional travel in 13 Western states. It is published in five zoned monthly editions—Pacific Northwest, Northern California, Southern California, Southwest and Mountain—showcasing the region's unique lifestyle and noteworthy destinations and inspiring its nearly five million readers to achieve the dream of living in the West. The magazine is also available on all tablets. Sunset is part of the Lifestyle group of magazines and websites published by Time Inc.
Sources: Western Trends Report, Angus Reid Strategies, 1/09; MRI Spring 2011; Omniture Aug. 2012; 2010 Doublebase MRI; MRI Spring 2011; Sunset Readership Study, 2/1