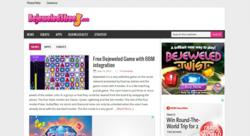 Bejeweled3Free.com is a new online platform that is a must-visit for Bejeweled 3 gamers.
Phoenix, AZ (PRWEB) October 21, 2012
Among the countless types of entertainment that the Internet offers, online games top the list – primarily because they are easy to access, and can often be played with others players online. Many types of online games have been developed to offer complex, more imaginative themes, but there are those that stay true to the basics even as they have been improved over the years.
One such online game, Bejeweled, has become a household game that matched the popularity of Tetris. All about matching gems of the same colors by putting them together, the game has hooked millions, with its simple yet interesting and purely addictive appeal – especially with Bejeweled gamers on a quest to progress into the higher levels.
First released in 2001, Bejeweled has undergone gameplay and visual enhancements – with the third official title being the latest.
Bejeweled3Free.com is a new online platform that is a must-visit for Bejeweled 3 gamers. The website is dedicated to featuring one of the world's most popular puzzle games from PopCap on its improved, latest version.
At Bejeweled3Free.com, visitors are treated to a world of news, cheats, apps and strategy toward a fun, interesting and exciting Bejeweled 3 game. In particular, the website features the ins and outs of playing the Classic, Zen, Lightning and Quest standard modes. Now more interesting than ever, Bejeweled 3 compels players to unlock secret modes of Butterflies, Diamond Mine, Ice Storm and Poker.
At Bejeweled3Free.com, avid gamers can read on for the latest about the Bejeweled 3 game, including its pull out from Google+ less than a year after the launch of the service. Information on integration with other platforms are also featured to keep gamers as well as gadget users updated.
To know more about Bejeweled 3, the latest online game that makes a great way to pass a few hours, please visit http://www.bejeweled3free.com for information.
ABOUT
Bejeweled3Free.com is a new website that provides the latest news on the Bejeweled game series. The online resource is created to cater to enthusiasts and fans of Bejeweled games.