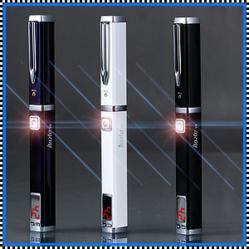 (PRWEB) October 25, 2012
VaporTrail Magazine publishes Innokin iTaste VV. VaporTrail is a magazine focusing on latest news for vapers, new products, mods, e cig starter kits. "Innokin Manufacturing is really trying to help vapers, vape their way with their new additions to the iTaste VV lineup. Now you can get the Express kit and check out the iTaste VV without hurting your wallet very much", says VaporTrail Magazine.
The iTaste VV is a variable voltage battery that is around the size of an 900 mAh eGo, with a Pen Clip cap, on/off, advanced magnet technology, nice and unique design, and multiple connections, thanks to it's magnet design, vapers can change their connection to a 510, 808, 901, RN4081, Noble, NJoy, and NPro with ease. The iTaste VV features LED read out, safety features, 10 second cut off, puff counter and replaceable tank atomizer like the eGo-C. "The ease of use, and the many features will make the iTaste VV a very sought after device. Combined with the Tidy cartomizers, a clero cartomizer that is easy to fill, and easy to clean, the iTaste VV will be a huge hit" says VaporTrail Magazine.
Innokin has added a round connection on the iTaste VV cartomizers kit, so vapers can vape all of eGo accessories, along with regular cartomizers. Innokin keeps on improving with new updates to the iTaste VV's with the new Dual Coil Cartomizers Kit, the Express Kit, the New Clearomizer Kit and the new eGo-C Kit, along with the final version of the Tidy Clearomizer.
VaporTrail also shares a positive review for the final version of the Tidy Clearomizer is very good. "Great taste, a much better throat hit, and it is better built, better quality, and just a little shorter, so now your pen clip cap can be put on with the a full Tidy clearomizer still on. The cap closes with the cart on", says VaporTrail Magazine.
"Innokin Manufacturing also has many new things on the horizon, some that you are going to love", VaporTrail Magazine concludes.