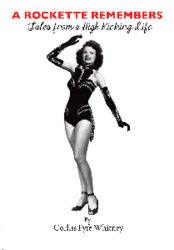 Corliss Fyfe was the youngest Radio City Music Hall Rockette when she joined the world-famous dancing line.
ROCKVILLE CENTRE, N.Y. –
(PRWEB) October 23, 2012 -- At age 17, Corliss Fyfe was the youngest Radio City Music Hall Rockette ever accepted when she joined the world-famous dance line. She auditioned just two days after graduating from her Long Island high school in 1945, was hired on the spot and stayed with the group for eight years. This new book offers a fascinating look at the life of a remarkable woman.
"A Rockette Remembers: Tales from a High Kicking Life" is filled with insider stories about Rockette life experienced during 12-hour days and seven-day weeks spent with thirty-six other girls "crammed into two cozy dressing rooms." Corliss' breezy storytelling brings to life memorable moments; such performing for the first time in the "March of the Toys" routine, meeting Lucille Ball during a rehearsal, or rushing to Times Square with her line-mates en masse to celebrate the end of World War II. Still, there is richness in her recollections of the simple day-to-day stories such as the camaraderie the dancers felt while scouring the city for nylon stockings (scarce during the war years) or storming their favorite eatery between shows and humorous stories about the pranks pulled on one another during performances or the pitfalls of having to dance one routine on stage in between the rehearsals of a new one.
Corliss was known as the "unofficial historian" of the Rockette Alumnae since she helped form the group as an original board of director's member in the 1950s. She relates through personal experience, little known facts about music hall legend Russell Markert, who created the Rockettes and choreographed the group's routines, as well as supporting cast like Leon Leonidorf, the Hall's talented producer; Gene Snyder, assistant chorographer; Emilia Sherman-Maurer, Markert's right hand man ever-present at rehearsals; and Muriel Kilduff Hake, line captain and substitute dancer.
The music hall itself plays a featured role in Corliss' memoir as she takes the reader on an intimate tour of the magnificent building from the cafeteria in the basement all the way to the roof. She paints a wonderful picture of the elaborate sets, the giant control board that served as the building's brain, the three enormous elevators big enough to contain magnificent sets and 36 Rockettes, and the immaculately maintained independent power plant that was capable of powering the entire building during a blackout.
Above all, this memoir and accompanying photographs capture an exciting era at Radio City. As author David Fisher writes on the book's cover, "Her descriptions of the amazing shows, the lavish sets, the beautiful Rockettes and the pitfalls of dancing behind an elephant bring to life a very special time and place in American entertainment history."
Author Corliss Fyfe Whitney began dancing at age 3 as an only child who grew up in the 1930s in Hewlett, Long Island. She dreamed of being a Rockette after seeing the group perform when she was 9. After dancing with follies and for local USOs, she saw professional dancing as her ticket away from home. Following her time with the Rockettes, Corliss raised a family and ran her own business on Fire Island. She also choreographed and danced lead with the Seasoned Steppers, a dance line featuring women 65 and older who performed in New York, Las Vegas and Branson, Mo. Her son, Scott, edited the final draft of her memoir following Corliss' death. Her website, http://www.arocketteremembers.com, contains photos of Radio City Music Hall and a video of her "A Rockette Remembers" seminar.
----------
For additional information, please visit http://www.arocketteremembers.com.
A Rockette Remembers: Tales from a High Kicking Life
Corliss Fyfe Whitney
Dog Ear Publishing
ISBN: 978-1-4575-1322-0 188 pages $27.95 US
Available at Ingram, Amazon.com, Barnes & Noble and fine bookstores everywhere.
About Dog Ear Publishing, LLC
Dog Ear Publishing offers completely customized self-publishing services for independent authors. We provide cost-effective, fast, and highly profitable services to publish and distribute independently published books. Our book publishing and distribution services reach worldwide. Dog Ear authors retain all rights and complete creative control throughout the entire self-publishing process. Self-publishing services are available globally at http://www.dogearpublishing.net and from our offices in Indianapolis.
Dog Ear Publishing – self-publishing that actually makes sense.