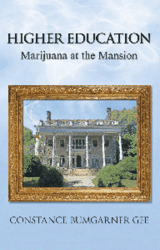 moves fluidly from insider tales of the sometimes cut throat maneuverings at the top echelon of academia to Gee's personal, life-altering struggle with Meniere's, a debilitating disease of the inner ear … and pressing need to legalize medical marijuana.
Westport, MA (PRWEB) October 24, 2012
Dog Ear Publishing announces the new non-fiction release "Higher Education: Marijuana at the Mansion" by Constance Bumgarner Gee, former first lady of three prominent universities. For the first time, Gee gives her account of events surrounding the 2006 scandal elicited from a Wall Street Journal front page report that Gee had smoked marijuana (to relieve Meniere's disease symptoms) at the Vanderbilt University chancellor's residence -- her home at the time. The scandal ultimately led to her divorce from husband Gordon Gee, then chancellor of Vanderbilt, and the former first lady receded from public life, until now. "Higher Education" moves fluidly from insider tales of the sometimes cutthroat maneuverings at the top echelon of academia to Gee's personal, life-altering struggle with Meniere's, a debilitating disease of the inner ear. Furthermore, Gee explains her decision to finally come forward to speak publicly about the pressing need to legalize medical marijuana.
"I wrote this book because I write to understand, and there was much about the last 18 years of my life to reflect on and learn from," says Gee. "I also knew that it was six years past time for me to speak up for the legalization of medical marijuana. More than anything, I hope my story will contribute toward that crucial and compassionate end."
In the compelling first chapter, Gee reflects on her days as a "first lady in exile" at Vanderbilt after receiving a university censure for her marijuana use. Although still living at the chancellor's residence, Gee was told to stay out of sight during events held there, events she used to hostess. Observing a lawn party from the mansion's portico roof, Gee reflects, "I was only just beginning to digest the consequences of my disobedience."
"Higher Education" takes readers from Gee's early personal life -- a childhood with a violent alcoholic father -- to her triumphs and struggles under intense public scrutiny. She humorously portrays her first impressions of academia as a fresh-out-of-grad-school, newly hired faculty member brought to Ohio State University to create an arts policy and administration program. Sharing with the reader details of her enchanted courtship with Gordon, OSU's charismatic university president, the author tells of the steep learning curve involved in becoming an academic first lady. Gee recounts her husband's decision to leave OSU for Brown University (Providence, R.I.), the clandestine dealings that enticed him from Brown to Vanderbilt, and the Brown community's explosive reaction to his departure. She also describes system presidency offers from the University of California and the University of North Carolina, both of which dramatically derailed.
Gee details the scheduling demands of a top level presidency and first lady, involving frequent international and domestic travel as university ambassadors and an unrelenting social calendar -- all of which contributed to insurmountable stress in the couple's private life.
Gee describes how she fell ill with Meniere's, experiencing severe aural pressure, tinnitus and hearing loss, along with debilitating nausea, vertigo and severe depression. Gee discovered the benefits from the use of small amounts of marijuana to alleviate symptoms, a welcomed respite after months of suffering. Almost a year and a half later, Gee's private use of marijuana landed on the front page of the Wall Street Journal in a sensationalistic story that, as Gee suggests, was printed to undermine her husband's chancellorship. But it was the first lady who took the brunt of the scandal: the resulting fallout forced Gee to rebuild almost every aspect of her life.
Gee is now an advocate for medical marijuana legalization and has testified before the Tennessee State legislature on the topic, and participated on a panel at NORML's 2012 conference (National Organization for the Reform of Marijuana Laws) in Los Angeles.
Gee recently relocated from Nashville to Westport, Mass., with her loyal canine companion, Rasta.
For additional information, please visit http://www.marijuanaatthemansion.com.
Higher Education: Marijuana at the Mansion
Constance Bumgarner Gee
Dog Ear Publishing
ISBN: 978-1-4575-1365-7
364 pages
$15.99 US
Available at Amazon.com, Barnes & Noble and fine bookstores everywhere.
About Dog Ear Publishing, LLC
Dog Ear Publishing offers completely customized self-publishing services for independent authors. We provide cost-effective, fast, and highly profitable services to publish and distribute independently published books. Our book publishing and distribution services reach worldwide. Dog Ear authors retain all rights and complete creative control throughout the entire self-publishing process. Self-publishing services are available globally at http://www.dogearpublishing.net
and from our offices in Indianapolis.
Dog Ear Publishing – self-publishing that actually makes sense.