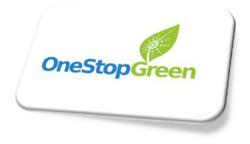 Houston, TX (PRWEB) October 19, 2012
An official City of Houston event, Energy Day is a free, family-friendly festival on Saturday, October 20, 2012 that celebrates and highlights the importance of energy in our daily lives. This daylong festival takes place at Hermann Square in front of City Hall in Downtown Houston, Texas. There will be energy exhibits, live music, food, contests and fun for all ages. In 2011, the first annual Energy Day attracted more than 12,000 attendees. One Stop Green will be exhibiting various sustainable and energy efficient products and services including next generation LED lighting at booth #77.
Geared toward K-12 students, Energy Day's mission is to highlight and demonstrate innovation in energy and to spark the interests of our next generation in energy-related careers. Through exciting, fun and interactive formats, Energy Day will give students and their families an opportunity to learn about various forms of energy, scientific breakthroughs and technology through educational displays, demonstrations, contests and presentations.
Interactive exhibits will be focused on innovation, energy production, processes and efficiencies. Attendees will be able to touch state-of-the-art technology, interact with the experts and ask questions. Together with our fellow sponsors and partners, including Houston Mayor Annise Parker, Energy Day hopes to amplify how truly integral energy is in our daily lives while motivating, challenging and inspiring young minds to explore career paths in the energy field.
As part of the Energy Day Festival 2012, One Stop Green will be giving away free eco-friendly products such as EarthMate CFL light bulbs, the One2Flush dual flush converter, and even products made from recycled bike parts by Resource Revival. One Stop Green will also be demonstrating next generation ActiveLED lighting as well as showcasing the latest Rainwater Harvesting Systems and Ciralight's Sun Tracker Daylight Harvesting Skylights. Energy Day attendees will be able to see these eco-friendly products in action at booth #77 and meet with One Stop Green Representatives to learn how these products can decrease energy consumption and our overall impact on the environment.
One Stop Green, LLC facilitates environmentally friendly improvements to residential and commercial properties through distribution of green, energy efficient products and services. Their goal is to provide practical, long-term, and economical solutions for existing and non-existing facilities while remaining dedicated to the principles of sustainability. One Stop Green's mission is to help consumers take control of their energy options so they can reduce their carbon footprint and do their part for the environment, while protecting themselves against rising energy costs and taking advantage of valuable Federal tax credits and deductions.
Contact:
Nathan Kaufman
http://www.OneStopGreen.com
P: 877.449.9110|O: 713.541.2739|C: 210-846-5900