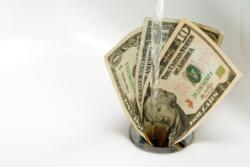 "Moreover, the NASDAQ has broken below its 50-day moving average (MA) at around 3,084, and it is threatening to move lower," adds Leong. "The same situation is occurring for the small-cap Russell 2000 index, which is sitting just above its 50-day MA."
New York, NY (PRWEB) October 19, 2012
In a recent Investment Contrarians article, editor George Leong notes that the charts are at a crux, with technology stocks and small-caps turning lower as the market risk increases. Leong reports that the NASDAQ is down over two percent so far for October, its gains from the end of the first quarter disappearing; major companies are slashing jobs to compensate for lower business volume; and the upcoming "fiscal cliff" is fueling uncertainty—all signs of the increasing overall stock market risk that, Leong claims, investors are underestimating.
"Moreover, the NASDAQ has broken below its 50-day moving average (MA) at around 3,084, and it is threatening to move lower," adds Leong. "…The same situation is occurring for the small-cap Russell 2000 index, which is sitting just above its 50-day MA."
Leong points out that with the Relative Strength Index (RSI) weakening, more downside moves are expected.
"Moreover, there is still the uncertainty of the upcoming fiscal cliff in January, when automatic budget cuts and higher taxes come into effect," notes Leong. "The concern toward this will likely affect the spending habits of consumers, and cap how much they will spend, until there is a resolution following the U.S. presidential election in November."
Leong concludes that the reality is that the market is clearly underestimating the impact that these many factors will have on the U.S. economy.
To see the full article and to get a real contrarian perspective on investing and the economy, visit Investment Contrarians at http://www.investmentcontrarians.com.
Investment Contrarians is a daily financial e-letter dedicated to helping investors make money by going against the "herd mentality."
The editors of Investment Contrarians believe the stock market and the economy have been propped up since 2009 by artificially low interest rates, never-ending government borrowing, and an unprecedented expansion of our money supply. The "official" unemployment numbers do not reflect people who have given up looking for work, and are thus skewed. They believe the "official" inflation numbers are also not reflective of today's reality of rising prices.
After a 25- to 30-year down cycle in interest rates, the Investment Contrarians editors expect rapid inflation caused by huge government debt and money printing will eventually start us on a new cycle of rising interest rates.
Investment Contrarians provides unbiased research. They are independent analysts who love to research and comment on the economy and investing. The e-newsletter's parent company, Lombardi Publishing Corporation, has been in business since 1986. Combined, their economists and analysts have over 100 years of investment experience.
Find out where Investment Contrarians editors see the risks and opportunities for investors in 2012 at http://www.investmentcontrarians.com.
George Leong, B. Comm., one of the lead editorial contributors at Investment Contrarians, has just released, "A Problem 23 Times Bigger Than Greece," a breakthrough video where George details the risk of an economy set to implode that is 23 times bigger than Greece's economy! To see the video, visit http://www.investmentcontrarians.com/press.