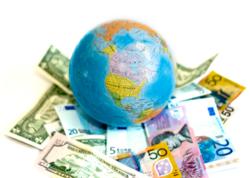 "In 2008, when the U.S. economy led to a global slowdown, emerging markets still had demand present and were able to hold up the global economy to a certain degree," notes Lombardi. "Now the scenario is completely different."
New York, NY (PRWEB) October 20, 2012
Michael Lombardi, financial expert and lead contributor to leading financial newsletter Profit Confidential, reports that the International Monetary Fund (IMF) has recently lowered its outlook for the global economy due to increased risk, now expecting economic growth at the pace of 3.3% in 2012 and 3.6% in 2013, compared to the 3.5% and 3.9% previously projected. (Source: International Monetary Fund, October 8, 2012.) According to Lombardi, the global economy is experiencing a new economic slowdown after a sluggish post-recession recovery. This time around, Lombardi believes the global economy could be facing more severe issues.
"In 2008, when the U.S. economy led to a global slowdown, emerging markets still had demand present and were able to hold up the global economy to a certain degree," notes Lombardi. "Now the scenario is completely different."
In the article "World Economic Growth Forecasts Slashed; Will We Have Any Growth at All in 2013?," Lombardi asserts that instead of the economic slowdown going from the U.S. out, it is now going from the remainder of the world into the U.S., noting that the emerging economies that fuelled the shaky recovery are struggling to keep their engines running.
He points to China, which is witnessing an economic slowdown due to the spillover effect of the European slowdown, as an example.
"The economic slowdown in China is becoming severe," says Lombardi. "With Chinese manufacturing slowing down, local demand decreasing, and exports in a slump, we expect the Chinese economy to grow around seven percent this year—its lowest growth rate in more than a decade."
But the Chinese economy is not the only economy sending waves of uncertainty into the global economy, says Lombardi.
Despite what Lombardi notes to be the mainstream media's efforts to glorify the central banks to expand world monetary bases in their continuous fight against the global economic slowdown, Lombardi believes that the market is currently in a fragile economic environment; one step in the wrong direction, such as a European bank failing, could throw world markets into a tailspin, Lombardi concludes.
Profit Confidential, which has been published for over a decade now, has been widely recognized as predicting five major economic events over the past 10 years. In 2002, Profit Confidential started advising its readers to buy gold-related investments when gold traded under $300 an ounce. In 2006, it "begged" its readers to get out of the housing market... before it plunged.
Profit Confidential was among the first (back in late 2006) to predict that the U.S. economy would be in a recession by late 2007. The daily e-letter correctly predicted the crash in the stock market of 2008 and early 2009. And Profit Confidential turned bullish on stocks in March of 2009 and rode the bear market rally from a Dow Jones Industrial Average of 6,440 on March 9, 2009, to 12,876 on May 2, 2011, a gain of 99%.
To see the full article and to learn more about Profit Confidential, visit http://www.profitconfidential.com.
Profit Confidential is Lombardi Publishing Corporation's free daily investment e-letter. Written by financial gurus with over 100 years of combined investing experience, Profit Confidential analyzes and comments on the actions of the stock market, precious metals, interest rates, real estate, and the economy. Lombardi Publishing Corporation, founded in 1986, now with over one million customers in 141 countries, is one of the largest consumer information publishers in the world. For more on Lombardi, and to get the popular Profit Confidential e-letter sent to you daily, visit http://www.profitconfidential.com.
Michael Lombardi, MBA, the lead Profit Confidential editorial contributor, has just released his most recent update of Critical Warning Number Six, a breakthrough video with Lombardi's current predictions for the U.S. economy, stock market, U.S. dollar, euro, interest rates and inflation. To see the video, visit http://www.profitconfidential.com/critical-warning-number-six.