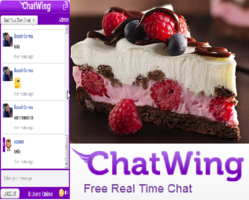 Cambridge, MA (PRWEB) October 19, 2012
Based on observations done by many professionals, food blogs and websites are now becoming common because of the dynamic tastes of people. Every now and then, people are looking for new food viands that will surprise their taste buds. Because of this online niche demand, the Chatwing Development Team has readily introduced a customizable chat widget with improved global connectivity and social media function. Chatwing's developers are certain that food website owners can benefit a lot from this simple website chat tool.
Food blogs and websites typically contain tips on how to cook the best viands. Chatwing's free chat box can help these owners share tips by providing an uninterrupted stream of communication. Once embedded, the Chatwing chatroom can now be a hotbed for up to 1000 information-hungry visitors. With this advantage, food websites will become more visible amidst competition. Moreover, the websites will gain strong subscriber bases.
Food blog owners can also benefit from Chatwing tool's background image upload option. They can use this feature to upload food images that will be enticing for many visitors. This feature has been carefully planned by Chatwing Dev Team in order to make the free chatbox more efficient in delivering information and entertainment at the same time.
Chatwing Development Team is looking forward to introduce the free chat widget in over hundreds and thousands of niches online. With this, many people will be able to have a new website chat experience by just visiting online sectors. Furthermore, information will travel fast with the help of the Chatwing chat tool.
About Chatwing.com
Chatwing.com specializes in the new field of website chat. Over years, the Chatwing team has introduced live chat widget for hundreds and thousands of blogs. The Chatwing application bridges people from many parts of the world, creating global synergy through the Internet. The shout box can be installed in just seconds, and it can be used for varying purposes such as leisure and Internet marketing. It also allows a user to customize the size, color, and name of the widget. Chatwing is 100% free for everyone.