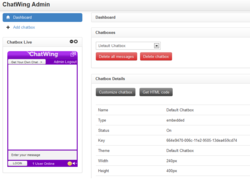 New York, NY (PRWEB) October 20, 2012
Exploring niches has been proven as one of the most common activities in the Internet today. Niches are great relays of information, based on the numbers of people that are searching for them. With this changing fact, thousands of niche bloggers and website owners are competing in the online arena. The Chatwing Development Team has readily offered a way for these niche explorers to outsmart competition. The company has recently introduced its newest chat widget capable of global communication in just seconds. Moreover, the Chatwing tool has a wide customization features that contribute to its flexibility.
The Chatwing chatbox is a micro-chatroom that is loaded with useful features. One of the most common features is social media integration. With this option, users can log in through their social media accounts such as Facebook and Twitter. Niche explorers can utilize this option to join more social media communities. With this, they can explore new niches or discover different weak spots of their competitors. The average Chatwing chatroom can also allow up to 1000 users in real-time.
Installation of the Chatwing free chat box is also an easy thing to do. First, the user must register his blog or website's domain name, along with email address. After that, he can now proceed to the dashboard in order to gain access of the customization options. In the customization phase, the user can now edit the colors and widget size independently. This allows for better modifications and gives more advantage to the user. After editing, the user can now retrieve the HTML code of the free shout box. He can opt for three styles: actual shoutbox style, pop-up window, and vanity URL.
The Chatwing Development Team is always looking up to the betterment of all online niches. Apart from that, the team wants to reach out to other web surfers who want to experience an entertaining and informational online chat.
About Chatwing.com
Chatwing.com specializes in the new field of website chat. Over years, the Chatwing team has introduced live chat widget for hundreds and thousands of blogs. The Chatwing application bridges people from many parts of the world, creating global synergy through the Internet. The shout box can be installed in just seconds, and it can be used for varying purposes such as leisure and Internet marketing. It also allows a user to customize the size, color, and name of the widget. Chatwing is 100% free for everyone.