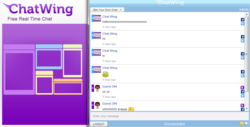 Detroit, MI (PRWEB) October 20, 2012
The online arena is always dynamic, as proven by the trends and niches that are appearing every now and then. Most trends are often relayed in the field of social media, and people are always keen enough to get the information. Operating on this fact, the Chatwing team has launched a chat widget that ensures global communication in under a minute. Aside from that, the Chatwing chat tool allows social media integration and user modification.
Online marketers can use Chatwing's free shout bo x for their simple campaigns. The Chatwing tool can reach any groups of people because it is versatile, flexible, and can deliver topics in just few seconds. Chatwing app's visitors can also log in with their social media accounts, expanding their networks. This feature alone can help online marketers join communities and widen their target markets.
Chatwing's free chatbox has also been introduced in forum communities specializing in different niches. Many people have relied on the Chatwing chat tool because of its customization options. The average user can add unlimited chat boxes in the Chatwing dashboard, and he can also set the color, size, parameters, and widget title. This degree of customization has enticed thousands of users worldwide.
By committing to a strict and dynamic strategic plan, Chatwing Development Team will be able to introduce the free chat widget to all online sectors. In the modern age, it has been proven that information drives everything—from the smallest factor to massive global events.
About Chatwing.com
Chatwing.com specializes in the new field of website chat. Over years, the Chatwing team has introduced live chat widget for hundreds and thousands of blogs. The Chatwing application bridges people from many parts of the world, creating global synergy through the Internet. The shout box can be installed in just seconds, and it can be used for varying purposes such as leisure and Internet marketing. It also allows a user to customize the size, color, and name of the widget. Chatwing is 100% free for everyone.