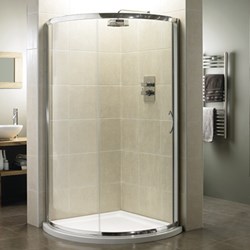 ..the company have invested in an extremely large range of new shower enclosures suitable for anyone's individual tastes.
(PRWEB UK) 23 October 2012
The shape, size and design of a bathroom suite can highly impact the choice of shower enclosure you decide to buy. Co-ordinating key bathroom items is an extremely important decisions as it will overall influence the final designs and look of a room. At Bella Bathrooms, the company have invested in an extremely large range of new shower enclosures suitable for anyone's individual tastes. Made by the finest bathroom manufacturers in the bathroom market, the finest quality of product is stocked to give consumers the best items available.
As shower enclosures are becoming increasingly popular within the design of modern bathroom renovations, companies are regularly updating their stock designing new styles and designs to help give customers a wide option. One of the most popular shower enclosures available on the market is the Quadrant Shower Enclosure designed to bring a new style into the home. Specifically designed to be fitted into a corner and a curved radius, space is a lot less restricted. Bella Bathrooms stocked a wonderful range of designs, sizes and prices for the ultimate selection. For a more rectangular, spacious design, home owners can purchase a hinged door or sliding door shower enclosure. These two unique designs are wonderful for anyone wanting to display a stylish feel.
Walk in showers are extremely luxurious to home owners with a wider range of free space in the bathroom suite. A simple yet spectacular design creates a luxurious effect thus creating a perfect shower experience. An added advantage of no moving parts creates no restrictions and enhances the overall experience. Bella Bathrooms have an extremely diverse range of products suitable for any consumer wanting to add quality to a suite. Wet rooms also provide a similar experience and are available in a wide range of sizes capable of providing a space saving technique whilst providing a gorgeous look and feel.
Bella Bathrooms new range of of self contained showers also provide an ideal option for home-owners that want to save both time and effort. In the self contained panels, white shock resistant panels are easy to clean and wont discolour. The company stock an extensive range of products that are perfect for adding new style without needing to re-surface any floor or tiling. For confined bathrooms, new bow fronted shower enclosure are now in stock to help provide the ultimate storage saving option. A bow fronted shower is designed to provide a wider range of space within the standing area and wont limit space along walls.
About Bella Bathrooms:
Bella Bathrooms is one of the finest UK online bathroom retailers based in the North-East of England and offer continuous great deals of bathroom refurbishments, shower, towel rail and radiator updates, stylish bathroom furniture and various other key elements at prices that are guaranteed to be unsurpassable. The latest updates continuously made have further improved the overall quality and they have set a high standard for things to come in the future.
Bella Bathrooms
Tel: 0844 8117 017
Available to contact from 9am – 5pm