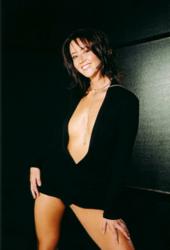 Lisa Cannon, the international triple threat performance artist, blew the doors off the Planet Hollywood Saxe Theater in Las Vegas
(PRWEB) October 24, 2012
Triple-threat musician, dancer and actor Lisa Cannon will be on stage October 30th at 9:00pm at Planet Hollywood Resort & Casino. Originally from Australia, the internationally acclaimed performer debuts in the Sin City Comedy show in Las Vegas. Cannon will join forces with Sin City Theater founder and comedian John Padon in a performance combining original choreography, burlesque and comedy.
Adding to a repertoire that includes performances at the Rivera, Cannon recently dazzled audiences in the new "Burlesque" musical variety show at the Saxe Theater in Las Vegas. Replete with talented musicians and dancers, the musical served as the ideal showcase for Cannon's talents.
Over the last decade, Cannon has had musical and theatrical performances take her to Asia, Milan and Paris. Follow Cannon on Twitter at https://twitter.com/VegasAussie.
Tickets are priced at $48.50 and $37.50 and can be purchased in person at the Sin City Box Office at Planet Hollywood, online at http://www.planethollywoodresort.com and ticketmaster.com and by phone at (877) 374-7469 or (702)777-7776. Guests must be 18 years and up.
For additional information, pictures, and resume contact:
GCFA-Public Relations Co.-1771 East Flamingo Road, Suite 206A, Las Vegas, Nevada 89119 GCFALANY.com
Marketing and distribution by Fouts Ventures, http://www.foutsventures.com 1-800-277-5221