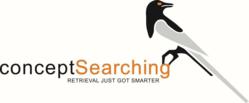 Our commitment as a Microsoft partner has always been to utilize the key strengths of Microsoft technologies, specifically SharePoint, and leverage these strengths to provide our clients with the best of both worlds.
McLean, VA, US and Stevenage, UK (PRWEB) October 23, 2012
Concept Searching, a global leader in semantic metadata generation, auto-classification, and taxonomy management software, and developer of the Smart Content Framework™, is pleased to announce that its conceptClassifier for SharePoint 2013 is available and will be demonstrated at the SharePoint Conference 2012, November 12th-15th, in Las Vegas, Nevada, at booth 957.
conceptClassifier for SharePoint 2013 is now available on limited release, with general customer shipment on November 30th 2012. Concept Searching was the first to market with the product that natively integrates, reads and writes to the SharePoint 2010 term store, and is delighted to confirm the same capabilities are now deployed and available with SharePoint 2013.
Microsoft has placed even greater emphasis on the term store, and in the creation and management of term sets, with this new release of SharePoint. conceptClassifier for SharePoint is a key component in expediting the development, testing and validating of multiple term sets, and the on-going management, to address the flux of information as organizational objectives change and information is added.
SharePoint 2013 still has no automatic concept extraction capabilities to populate the term sets, nor auto-classification capabilities to align content – real requirements to improve a variety of mission critical processes. conceptClassifier for SharePoint delivers these missing components.
"Our commitment as a Microsoft partner has always been to utilize the key strengths of Microsoft technologies, specifically SharePoint, and leverage these strengths to provide our clients with the best of both worlds," said Martin Garland, President of Concept Searching. "We continue to follow this benchmark and provide technologies that are flexible, rapidly deployed, and easily managed. This enables our clients to maximize their investment in SharePoint and use technologies that can address search, records management, protection of privacy, data, migration, and social networking in any deployment environment."
Search is completely new in SharePoint 2013. conceptClassifier for SharePoint has been delivering in context metadata, improving search for all SharePoint environments from SharePoint 2007 through to SharePoint 2013, and is no different with tight integration with the refiners. Coupled with the new Faceted Search, Concept Searching browse taxonomy control continues to increase speed and accuracy in search, as well as find relevant information and remove the ambiguity in terms, while finding related concepts.
Another feature of the new SharePoint version is what Microsoft calls 'people search'. Concept Searching refers to that as 'expertise search'. The flexibility of the Concept Searching technology can be used to build a knowledge base of expertise within an organization. This provides the ability to aggregate information relating to an individual's experience, from disparate data stores, and return the results based on any number of parameters, such as projects worked on, resume, work performed, products produced, corporate profile, biography, and even documents created by the user, that contain the search criteria entered by the user. As the Concept Searching technology has the ability to generate semantic metadata, or concepts, the people search is elevated to the level of expert identification as the information retrieved is much more granular and relevant.
Using conceptClassifier for SharePoint, which is integrated with the Content Search Web Part, the search index can contain multi-word, automatically generated metadata. The search experience will be improved as the index will capture the essence or meaning of content to achieve relevant search results without manual intervention.
There is a new analytics processing component in SharePoint 2013 that runs different analytics jobs to analyze content in the search index. The new functionality for displaying these Content Recommendations is based on usage patterns, in order to guide users to other content that may be relevant for them. Again, underlying the functionality, conceptClassifier for SharePoint 2013 can guide users to other 'relevant' content, rather than just content that is highly viewed.
Follow Concept Searching: http://www.twitter.com/conceptsearch
About Concept Searching
Founded in 2002, Concept Searching provides software products that deliver conceptual metadata generation, auto-classification, and powerful taxonomy management from the desktop to the enterprise. Concept Searching, developer of the Smart Content Framework™, provides organizations with a method to mitigate risk, automate processes, manage information, protect privacy, and address compliance issues. This information governance infrastructure framework utilizes a set of technologies that encompasses the entire portfolio of information assets, resulting in increased organizational performance and agility.
Concept Searching is the only platform independent statistical metadata generation and classification software company in the world that uses concept extraction and compound term processing to significantly improve access to unstructured information. The Concept Searching Microsoft suite of technologies runs natively in SharePoint 2010, FAST, Windows Server 2008 R2 FCI, and in Microsoft Office applications.
The building blocks of Concept Searching's Smart Content Framework™ are being used by organizations from a diverse number of industries including the US Army, the US Air Force, the UK MOD, Baker Hughes, Deloitte, Logica, NASA Safety Center, OppenheimerFunds, Point B, Perkins+Will, Parsons Brinckerhoff, Burns & McDonnell, MarketResearch.com, the US Department of Health & Human Services, Transport for London, the London Fire Brigade, the National Transportation Safety Board, and Xerox.
Headquartered in the US with offices in the UK, South Africa and Canada, Concept Searching solves the problem of finding, organizing, and managing information capital far beyond search and retrieval. The technologies are being used to drive intelligent migration, enable effective records management, identify and lock down sensitive information and enhance governance. For more information about Concept Searching's solutions and technologies please visit http://www.conceptsearching.com
All product and company names herein may be trademarks of their respective owners.