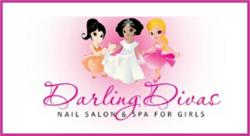 Mary Esther, FL (PRWEB) October 22, 2012
Darling Divas, a trendy nail salon and spa for girls in Mary Esther, Florida, recently launched a more intuitive revision of their website http://www.darlingdivas1.com, which allows for features such as a calendar of events, photo gallery, spa packages available and much more.
In an effort to bolster visibility through a stronger web presence, Darling Divas has focused resources on building a more intuitive, content-rich website along with an increased emphasis on social media and showcasing their spa packages. They are constantly working to to offer more comprehensive information about their products and services and provide a stronger customer experience.
New features for the site allow customers to access the Darling Divas Facebook page, check the salon's calendar of events, get complete pricing information on spa party packages and the products available in their store. Website visitors can also enjoy the photo gallery, which showcases their young clients enjoying spa parties, facials and pedicures.
"We are so excited to offer a new website as a great new resource for our customers," said Janie Patterson of Darling Divas. "Visit the new website today to see everything we are offering in the salon and be sure to check out the new calendar of events."
Darling Divas is salon and spa for girls that aims to promote positive self-image. They stress the importance of natural inner beauty, while pampering them with spa services that enhance outer beauty and confidence. Darling Divas offers manicures, pedicures, facials, and combination packages. They also offer gift boxes featuring "Sugar Scrub Sundae," "Lip Gloss," and "Shimmer Lotion." For more information on all Darling Diva products and services, please visit the new website at http://www.darlingdivas1.com or call (850) 581-0304.
About the company:
Darling Divas is a nail salon and spa offering individual service as well as serving as coordinators of spa theme parties catering to young girls 16 and under; however we also service adults. They are dedicated to providing high customer satisfaction by rendering excellent service, using quality products and furnishing an enjoyable atmosphere at a competitive price/value ratio. They will also maintain a friendly, fair and creative work environment that encourages ideas, fosters confidence and rewards hard work.
Darling Divas' mission is to supply services and products that not only enhance their clients' physical appearance and mental relaxation, but also build a sense of pride in their personal appearance and provide mentorship by way of interaction with Darling Divas' older, experienced technicians. For more information visit their website at http://www.darlingdivas1.com.