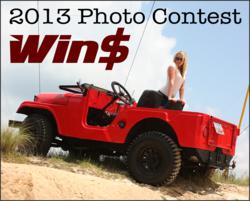 with each year comes more anticipation for the chance to see what's been going on in the Willys Jeep community
Aiken, SC (PRWEB) October 20, 2012
Fall is the season that gives us a wonderful background of beautiful landscapes as a backdrop to photograph vintage Willys and Jeep vehicles. Your best vintage jeep restoration photo could mean holiday bucks if you enter the Willys Jeep Cover Photo Contest sponsored by Kaiser Willys Auto Supply. Entrants are eligible for a chance to win a $1000 gift certificate for Willys Jeep parts and accessories and exclusive placement on the front cover of the 2013 Kaiser Willys Catalog. This year, there will also be a $500 gift certificate for the back cover photo winner.
Those involved with the yearly contest sponsored by Kaiser Willys commented that with each year comes more excitement and anticipation for the chance to see what's been going on in the Willys Jeep community. "We love seeing the restorations people are working on out there," says Mike Meditz, owner of Kaiser Willys, "and look forward to helping a few folks out with this year's contest winnings."
For each participant, Kaiser Willys will create a photo album on their blog with the hopes of expanding the Willys Jeep community and encouraging those who are furthering the "mission" of keeping the heritage of these iconic vehicles alive. Entrants who do not win the grand prizes may still be featured inside the 2013 Catalog, which goes out to thousands of worldwide Willys Jeep enthusiasts.
The Kaiser Willys Photo Contest will be open through November 15, 2012.
About Kaiser Willys: A family owned business for over 15 years, Kaiser Willys is dedicated to providing quality and reasonably priced vintage parts and accessories for all 1941 to 1971 Willys and Jeep vehicles, including CJ Models, Wagons, Truck, Jeepster, MB, GPW, M38 and M38A1 and many more. Kaiser Willys also provides vintage Willys parts internationally to museums, repair shops and individuals, and is always ready to provide assistance with any question you may have about your rebuild or restoration!