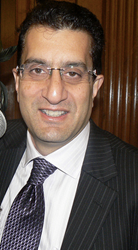 On behalf of my team I am really thrilled and delighted to have been awarded the extension of this contract for another 12 months
Middleton, Manchester (PRWEB) October 19, 2012
The Dental CATS scheme, led by Tariq Drabu, which is an innovative, pioneering scheme to bring specialist dental surgical care closer to communities in Middleton, Heywood and Rochdale in Greater Manchester has just had its contract extended by another 12 months from March 2013 to March 2014.
The contract extension was announced at a recent meeting between Tariq Drabu leading oral surgery specialist provider and NHS Heywood Middleton and Rochdale who commission the service. The Dental CATS scheme takes the concept of delivering high quality specialist dental and oral surgical care out of the confines of a hospital and brings it into high street dental practices. This has brought specialist dental care closer to communities, resulting in a quicker, more patient centred and more cost effective service.
Tariq Drabu and his Langley Dental Practice team originally won the bid for the Dental CATS in April 2009. The Dental CATS was commissioned in September 2010 and was originally due to run until 31 March 2013. Tariq Drabu who is registered with the General Dental Council as a specialist in oral surgery is the clinical lead for the service.
Speaking about the contract extension Tariq Drabu who is the owner of Langley Dental Practice said, "On behalf of my team I am really thrilled and delighted to have been awarded the extension of this contract for another 12 months."
Tariq Drabu continued, "With so much uncertainty within the NHS due to large scale reorganisations, the extension of this contract affords us a period of security and continuity for both our patients and our practice. At one stage we were advised that the contract would end in March 2013. The fact that it has been extended for another year is great news for the dentists who refer to us and the patients who we treat. It demonstrates that in the face of major changes our local Primary Care Trust has confidence in our ability to deliver high-quality specialist dental care."
Tariq Drabu concluded, "The way that specialist dental services are delivered is changing all the time and we welcome these new changes and innovations. This contract extension ensures stability for our patients, our local Primary Care Trust and our practice and is a win-win situation all round."