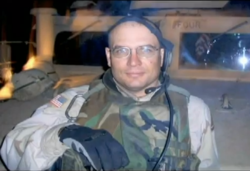 ONE SERVICE MEMBER COMMITS SUICIDE EACH DAY AND SUICIDE NOW RANKS AS THE SECOND LARGEST CAUSE OF DEATH FOR SERVICE MEMBERS
Washington, DC (PRWEB) October 19, 2012
NewsWatch recently aired a piece focusing on the effects of psychological stress as a result of deployment among our veterans. The piece highlighted how service members and their families should feel comfortable reaching out to their units and chain of command for support. Not only do they bear the great responsibility of protecting our nation, but as Americans, it's our duty to support their physical and psychological strength.
With the official Suicide Prevention Awareness Month over, the Real Warriors Campaign is asking Americans to help continue to spread the word about the many psychological health tools and resources available for active duty service members, members of the National Guard and reserve, veterans and military families coping with invisible wounds.
Watch Real Warriors on NewsWatch
About the Real Warriors Campaign:
The Real Warriors Campaign is a multimedia public awareness campaign that encourages help-seeking behavior among service members and veterans coping with invisible wounds. The campaign features Real Warriors who prove through example that reaching out is a sign of strength that benefits warriors, their families, their units, and the military community. For more information please visit http://www.realwarriors.net.
NewsWatch is a weekly 30-minute consumer oriented television show that airs nationwide. NewsWatch regularly features top travel destinations, health tips, technology products, medical breakthroughs and entertainment news on the show. The show airs in 180 markets nationwide as well as all of the top 20 broadcast markets in the country, and is the preferred choice for Satellite Media Tour and Video News Release Distribution. For more information, head to newswatchtv.com