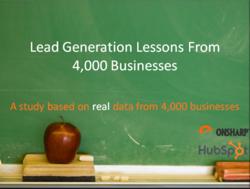 Fargo, North Dakota (PRWEB) October 22, 2012
The biggest challenge for all marketers, regardless of industry, is generating qualified leads. Onsharp is excited to distribute a free ebook. The ebook features data from 4,000 businesses and is presented to provide proof of how successfully different inbound marketing activities generate leads.
Any marketer or business owner will want to download and read this free ebook for actions to take to increase the number of leads coming through their websites. There are several different actions that can be taken plus compelling data that supports these actions. For example, websites that blog regularly and frequently can increase the number of leads they produce by 3.5 times those who do not blog. Want to know how many times to blog per week? Download "Lead Generation Lessons from 4,000 Businesses." Blogging isn't the only activity that can increase lead generation. Simply having a social media fan base of more than 500 "Likes" can increase your website traffic and, ultimately, leads.
HubSpot gathered statistics from over 4,000 businesses from several industries of the B2B and B2C persuasion. They compared the amount of traffic and the number of leads generated to several factors including blogging, landing pages, website pages, Facebook reach and Twitter reach.
The study produced interesting results and actionable items that any business can do to increase the number of leads they generate. The eBook is a free download provided by Onsharp and HubSpot.
To download the eBook, please visit http://info.onsharp.com/lead-generation-stats-from-4000-businesses.
Onsharp is an interactive agency that architects, builds, and supports web-based solutions. We're passionate about technology, but not just because we think it's cool. We are experts at helping businesses understand how new technologies and trends can help them meet customer demand while improving productivity. Onsharp strives to create success in the lives of all people, businesses, and communities they serve. For more information about Onsharp, please visit http://www.onsharp.com or call toll-free at 1.866.ONSHARP.