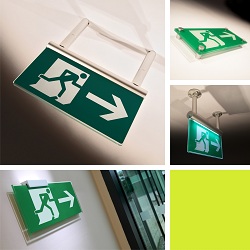 We believe that customers will recognise instantly that what we offer are superior quality workplace signs yet at highly affordable prices
(PRWEB UK) 21 October 2012
Signbox, one of the UK's foremost sign manufacturers and winner of the coveted 'Best Sign Company of the Year' award for both 2011 and 2012, has re-launched its e-commerce website greatly extending the range of signs and sign solutions offered.
The website features a completely new style of fire exit sign, part of a range of safety signs that are EN 7010 compliant. EN 7010 European legislation is currently being adopted by all member states. When EN 7010 comes fully into effect, any safety signage installed in new projects in workplaces and public areas that do not comply will be illegal.
Signbox has successfully positioned itself as a single point resource providing consultancy, signage strategy, design, manufacture, project management and installation. Part of the portfolio of services is the e-shop to provide customers with 'off-the-shelf' signs and signage available with a quick turnaround, typically within a few days from placement of order. Signbox took the view from the outset however that ready-made workplace signs do not have to be utilitarian and purely functional – all the sign products featured including display, health & safety, desk and door, fire escape, paper insert and wayfinding are high quality and aesthetically pleasing, designed to complement the quality of a customer's own working environment.
Commenting on the relaunch of the e-shop website, Mark Bartlett, Managing Director of Signbox, said, "The new e-shop website is not just a make-over but a totally new site with a striking design that nonetheless has put a premium on simplicity of use.
"Finding the right 'off the shelf' workplace signs using the new website could not be easier. We also believe that customers will recognise instantly that what we offer are superior quality workplace signs yet at highly affordable prices".
To see the new look website and the new safety signs visit the Signbox e-shop at: http://www.signboxshop.co.uk.