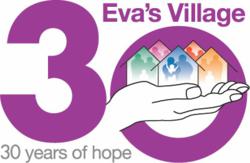 Paterson, New Jersey (PRWEB) October 21, 2012
Eva's Village (http://www.EvasVillage.org), a comprehensive New Jersey anti-poverty charity, will honor Wells Fargo Bank at its 2012 Annual Benefit Gala. The widely respected anti-poverty organization will also recognize The Church of Christ the King, New Vernon, for its 30 years of dedicated service to Eva's Village the most comprehensive charitable organization serving New Jersey's poor.
For thirty years Eva's Village has been providing everything from free meals to New Jersey's hungry, shelter to New Jersey's homeless, intensive inpatient treatment for New Jersey's addicted and free medical care to New Jersey's uninsured. As the country continues to recover from the recent recession, programs at Eva's Village continue to see an increase in demand for their services. Eva's Kitchen, one of New Jersey's largest soup kitchens, recently enlarged it dining area from 240 seats to 400 to accommodate the increased demand. Over the past three years, Eva's Village has opened a 50 unit complex of safe, beautiful and affordable housing, expanded its kitchen program and opened a new and expanded primary care clinic.
Donna Marie Fico, Director of Marketing and Education at Eva's Village, notes that the 2012 Benefit Gala for Eva's Village is subtitled '30 Years of Hope'. "Over the past 30 years, Eva's successes have been many," states Ms. Fico. She points out that in addition to honoring Wells Fargo Bank and The Church of Christ the King, Eva's will be presenting Msgr. John F. Corr (former pastor of Christ the King) with a special 30 Years of Hope Award. Msgr. Corr (a classmate of Eva's founder, Msgr. Vincent E Puma) was the first campaign chairman in the 1990s when Msgr. Puma, who passed away earlier this year, sought help to move his tiny soup kitchen to a larger facility. Through his compassion for those in need, Msgr. Corr was able to inspire many to join him in raising funds to build Eva's Village. Each year, the Eva's Village Annual Benefit Gala provides a critical funding source to the many programs that make Eva's Village so critical to those in need, and each year it identifies additional needs for those in its community. This year at the Gala attendees will be able to view how Eva's Village has progressed over the past 30 years and find out what is planned for the future. Starting in 2010 handheld BidPal® devices were provided to every attendee to make silent auction bidding fast and fun.
"I am humbled by the goodness of so many people who have worked with us over the past 30 years, to feed the hungry, shelter the homeless, treat the addicted and provide free medical and dental care to the poor," states Marie Reger, Executive Director. To demonstrate that Eva's Village meets donor expectations, she reports that the organization consistently receives high marks for efficiency, including a sixth consecutive Four-Star rating by Charity Navigator, indicating that Eva's Village "Exceeds industry standards and outperforms most charities in America" (Charity Navigator).
For more information on the "30 Years of Hope" Gala Dinner (November 8, 2012), honoring Wells Fargo Bank and The Church of Christ the King, contact: Joey Mazza, Special Events Coordinator – Phone: (973) 523-6220 Ext. 235 Fax (973) 825-7297. The Eva's Village Annual Benefit Gala will be held at The Grove, Cedar Grove, New Jersey and Joe Piscopo will be the Master of Ceremonies.
To donate to this NJ Charity, or for more information about Eva's Village, call (973)-523-6220, go to http://www.evasvillage.org or write to: Donna Fico, Director of Marketing & Education, Eva's Village, 393 Main Street, Paterson, NJ, 07501.