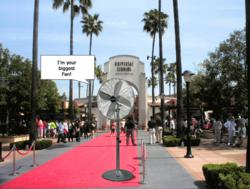 Space age Insulation for new Blockbuster
Manchester (PRWEB UK) 22 October 2012
Ryan Air Conditioning are one of the UK's leading suppliers of air conditioning units and accessories who's manufacturers include Fujitsu, LG, Aspen, Dixcell and Sauermann. They are located just outside Manchester UK and their warehouses houses over four thousand air conditioning installation and maintenance products all ready to be delivered. In addition to their national and international delivery options, Ryan Air Conditioning also has a dedicated sales desk which is open to both trade customers and members of the general public. Their staff have over 20 years of experience and are always available to provide expert advice.
They recently had a request from a Film company to sell 10 sheets of 9mm thick and 10 sheets of 13mm thick Armaflex Duct Insulation Sheet. These duct insulation products are specially made to provide thermal insulation for air conditioning, warm air and extractor ducts used in the internal and external environment. These products not only provide insulation to your equipment but also prevent any damage from external sources, plus they are easy to handle and install which is an added bonus. A few more advantages of this specific type of Aluminum foil backed sheeting are that is it Compliant with Building Regulations Part L* energy saving legislation, it is Suitable for rectangular and circular ductwork and best of all there is no piercing of the ductwork required.
The film they have provided these ducts sheets for is the upcoming Sci-fi Tom Cruise and Emily Blunt blockbuster 'All You Need Is Kill' which is due to be released in March 2014. This film depicts the struggle of a soldier fighting in a war with aliens who finds himself caught in a time loop of his last day in the battle, every time becoming more skilled along the way.
Ryan Air Conditioning hopes all goes well with this new and exciting upcoming film and thank them for using our products with the knowledge they will be using the top of the range duct sheet insulation which they received with a fast delivery service to give them the satisfaction they needed when creating such a blockbuster. If anyone would like more information on Ryan Air Conditioning's products, be it Duct Insulation Sheeting, air conditioning or even refrigeration equipment; visit our Facebook page at [ http://www.facebook.com/RyanAirConditioningSpares