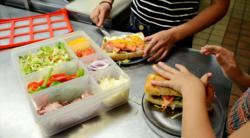 I was able to change my eating habits, and this was a great tool to eat more vegetables
St. Paul, MN (PRWEB) October 19, 2012
As a restaurant owner and former caterer, Prep & Serve creator, Marjorie Weir, knows that good food delivered on time starts with ingredients already prepped. Pros call this "mise en place", meaning, everything in place. The Prep & Serve system delivers on this idea.
Prep & Serve is a container with a cutting board lid that holds up to 12 boxes for carrying individual ingredients, and the aha! is ONE LID seals each separately. The system was designed to take advantage of multiple ingredients with the ability to change and refill easily. And it is a system, as each individual container snaps in place, and can be used on their own with their own individual lid.
Marjorie Weir on this NEW product - "Prep and Serve was created as I was searching for a container that I could use like a restaurant – to hold multiple items, just like on the restaurant line. (Ever stood in line at Subway™, Chipotle™ or Papa Murphy's™?) With catering, menu planning, dieting and trips to the beach, there were many times I wanted such a container, and couldn't find! There is not yet a system like this available today. I knew others would feel the same way, so Prep and Serve is finally the answer to that need, the ability to easily take many items with you."
Following a very successful meal plan and using a test box this summer, I was able to change my eating habits, and this was a great tool to eat more vegetables. I use this daily when making omelets and salads.
We are now looking for crowd-funding support to help busy moms, dieters, gourmet cooks and travelers easily assemble convenient meals, at home or away, a reality.
We have a working prototype and manufactured test set, and everything in place to venture forth and produce product. We are now raising funds to manufacture the molds needed to bring "American Bento Boxes" into production. Supporters have the opportunity to use Indiegogo to pre-order the Prep and Serve system.
For more information about Prep and Serve or to pre-order go to http://indiegogo.com/prepandserve