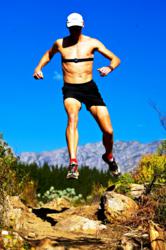 Our chief tester John Yarington was in 100% concurrence that Suunto makes the most comfortable heart rate strap on the market today
Bozeman, MT (PRWEB) October 20, 2012
Everyday at the Heart Rate Watch Company we repeatedly get asked the question, "Who makes the most comfortable chest strap?" Most people probably don't even know their name but it is universally agreed by Heart RAte Watch Company product testers that the Suunto Comfort belt is the single most comfortable chest strap on the market today.
"Suunto is a Finnish heart rate monitor manufacturer and is a very popular brand in Europe but many people in the USA have never heard of them," says Rusty Squire, President of the Heart Rate Watch Company. He adds, "Our chief tester John Yarington was in 100% concurrence that Suunto makes the most comfortable heart rate strap on the market today."
Part of the reason the Suunto comfort belt is so comfortable has to do with the soft fabric weave and construction. "Suunto did something very intuitive in adding a thin bead of silicone to the back of the strap which helps it stay in place much better than traditional straps, especially when you are sweating", says Squire.
Strapless heart rate monitors generally lack accuracy and the ability to produce continuous heart rate according to Squire. "With the new generation of straps like Suunto's Comfort belt and the Polar Soft strap there is no reason to not consider exclusively strapped models these days," says Squire. He adds, "Without the ability to continually and accurately monitor heart rate it defeats the entire purpose of heart rate based training."
Squire has written two books on heart rate based training entitled "How To Successfully Use A Heart Rate Monitor" and "How To Elevate Fitness With Strength and Interval Training." Both books are available as a free download at the Heart Rate Watch Company's homepage in the banner section.