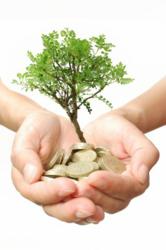 The Government have just confirmed a cashback scheme for homeowners taking up the Green Deal.
(PRWEB UK) 21 October 2012
The Cashback is open to any householder making energy saving improvements under the Green Deal, after 28th January 2013. This includes owner occupiers, those renting privately or in social housing. Landlords, both private and social, are also eligible where they pay installation costs, up to certain limits. In all cases, Cashback will be capped at 50% of the householder's contribution to costs.
Householders must follow the Green Deal process through;

Get a Green Deal Advice Report for their property
Agree a Green Deal plan with a provider, this could be via their local Green Deal Installer
Apply for the cashback online or over the phone (some providers will do this for them)
Redeem the voucher once the works are complete
The Green Deal cashback initiative, alongside the earmarked advertising fund, is a bit more indication of the governments backing to this "flagship policy". With businesses promoting Green Deal now and pinning their colours to it, the pressure will be on for the government led scheme to succeed. If you want to get involved from the outset now is the time to start putting the Green Deal system in place and beat the rush to get Green Deal registered in time for January 28th.
How much can customers get?
These rates are guaranteed for the first £40m after which the rates are likely to reduce, so customers will need to act early to get the best rates. Up to £125m has been earmarked for the scheme as a whole.
QUALIFYING ENERGY EFFICIENCY MEASURE & CASHBACK LEVEL
Loft insulation (incl. top up) £100
Cavity wall insulation £250
Solid wall insulation* £650
Flat roof insulation £390
Room in roof insulation £220
Floor insulation £150
Hot water cylinder insulation (incl. top up)** £10
Draught proofing £50
Heating controls (roomstat and/or programmer and time/temperature zone controls)** £70
Condensing oil boiler from non-condensing oil heating or other*** £310
Upgrade boiler to condensing gas boiler from non-condensing boiler or other £270
Flue gas heat recovery (condensing combi boiler) only alongside replacement boiler £90
New or replacement storage heaters £150
Replacement warm-air unit £60
Waste water heat recovery systems £60
Double/triple glazing (old single to A) £20 per m2 up to a maximum of £320
High performance replacement doors £40
Secondary glazing £15 per m2 up to a maximum of £230
The first step to Green Deal Registration is putting your Green Deal system in place, visit http://www.greendealaccreditted.com for more info.
For more info visit http://www.decc.gov.uk/assets/decc/11/tackling-climate-change/green-deal/6715-the-green-deal-cashback-for-energy-saving.pdf