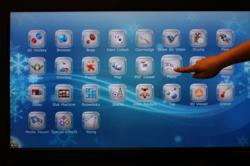 'We are dedicated to enabling innovative, easy & enjoyable interactive experiences'
(PRWEB UK) 22 October 2012
andersDX, Europe's leading User Interface technology specialist, today announced at the Kiosk London Show, the immediate availability of Snowflake, a market proven, plug & play multi-touch application suite with over 30, easy to customise applications which provide innovative ways to present products, services and other content, using intuitive and impressive gestures to display and interact with images, videos, web sites, brochures etc.
Snowflake is a multilingual solution, running on Windows 7, Windows 8 or Linux, with many of its applications already being used to drive rich, interactive, multitouch experiences in over 50 countries worldwide in a variety of environments including Wayfinding in Public spaces, Education, Exhibition/Events, Real Estate, Museums, Retail stores & shop windows, interactive advertising and signage.
'We are dedicated to enabling innovative, easy & enjoyable interactive experiences' said Rob Anders, CEO AndersDX. 'For this reason, a flexible, customisable, robust, SW offering has been a key requirement to enhance and complement our existing Multitouch hardware. With Nuiteq and Snowflake, we now have the ability to offer an impressive one stop solution for our customers'
'andersDX, is the perfect partner to adopt Snowflake for standard and customised multitouch deployments' commented Harry van der Veen, CEO of Nuiteq 'With an impressive range of robust, high performing hardware, supported by experienced, in-house technical capabilities and a strong commitment to delivering memorable user experiences, we're confident of achieving great success together'
In addition to the standard Snowflake suite, andersDX will work with Nuiteq to provide custom multitouch Software solutions, optimised for andersDX's award winning Optical and PCAP Touch monitors and miniature, fanless computers.
Snowflake SW is being demonstrated on the andersDX stand at Kiosk London
Download a free trial here.
About andersDX
andersDX, a division of Anders Electronics plc, is a User Interface Technology specialist dedicated to optimising the user experience of non-consumer devices.
Leveraging core competencies in Display, Embedded Computing and Input Technologies, together with GUI Design & Implementation and Industrial Design, andersDX helps customers differentiate their product offerings through innovative display interface solutions which are easy and enjoyable to use.
With over 55 years of experience exceeding the expectations of blue chip customers across a wide range of sectors, unparalleled technological expertise, and an ingrained "people first" service orientation – andersDX customers benefit from a global sales and engineering infrastructure in Europe, North America, and the Middle East, coupled with a fulfilment and logistics presence in the Far East, ensuring that Anders is available when our clients need us – in their language and time zone.
For further information, please visit http://www.andersdx.com