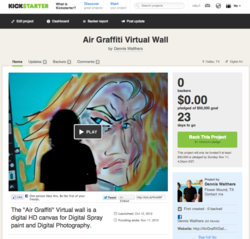 "To be a part of KickStarter.com projects with Air Graffiti Dallas is Exciting!"
Dallas, TX (PRWEB) October 23, 2012
Due to the large demand of Air Graffiti Dallas' service, the company needs support from backers to continue to build the business and share the art of talented local artists. While the product was originally designed to offer a brand new service for event planners, it has made a huge impact in the Dallas-Ft. Worth art community.
On fundraising website KickStarter.com, Air Graffiti Dallas has asked members to help make pledges to help with the purchase of additional equipment that will help share the talents of local artists. The technology is also being used as a learning tool. Working with local schools and the community, the Air Graffiti system exposes students to art in a unique and compelling method.
Air Graffiti Dallas offers state-of-the-art technology that incorporates an 8' x 10' rear-projection screen as a digital canvas. Using Infrared emitters with spray paint cans, the Air Graffiti software creates a realistic digital spray paint that can be adjusted for size, blur and transparency with a large color palette. The Virtual Graffiti Wall can also be used as a customizable digital photo wall service that offers a completely different experience from traditional photo booths. Event guests will have an exciting experience with an unlimited number of printed of images and Air Graffiti Dallas adds a "WOW" factor to events
"I have been following KickStarter for a while and find some of the technology projects amazing," said Dennis Walthers, owner of Air Graffiti Dallas. "Now to be a part of the KickStarter projects with Air Graffiti is exciting."
Walthers has set up a program to reward people who have made pledges toward the goal which includes various means of saying 'thank you' depending on the amount the backers pledge including the possibility of having an artist create art of the backer's choice, a video of the artist at work and the capability to post it to the backer's website to be delivered before the Christmas holiday season. To donate on Kickstarter.com, visitors can use this link: [Support Air Graffiti Dallas
To see a demonstration of the Air Graffiti Wall in action use this link: Air Graffiti with Artist Danny Nunnez "Hero"
For additional information about the KickStarter.com project and Graffiti Digital Art Entertainment brought by Air Graffiti Dallas, visit the Air Graffiti Dallas website and use the Contact Us tab. For more information about Air Graffiti Dallas via phone, call 214-293-5044.