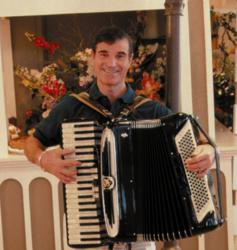 Houston, TX (PRWEB) October 19, 2012
Carmelo's Italian Restaurant, Houston's premier restaurant for authentic Italian cuisine, recently announced several upcoming fall events that will be hosted at the restaurant. The restaurant is pleased to announce that Sicilian accordionist, Pino Virga, has returned to the Houston location to play on Friday, Saturday, and Sunday evenings.
"Without live music, a restaurant is not Italian," said Carmelo. Accordionist Pino Virga has been performing at the Houston restaurant almost since the day it opened. Recreating the role of a strolling Italian street musician, he stretches out his accordion to full length and pumps out a jolly solo, creating an irresistible sound.
In addition, October and November bring "A Celebration of Sicily," authentic Italian dinners that feature a delicious Sicilian menu and extensive wine list. Born and raised in Sicily, and just back from a visit to Sicilian wineries and family, owner Carmelo brings his love of Sicily to Houston and Austin during the months of October and November.
Another special event sponsored by the restaurant is an upcoming fundraiser. Customers can purchase a holiday shopping card at the restaurant to receive a 20% discount per couple on the food portion of checks from October 25th - November 4th, 2012. Proceeds from the purchases of holiday shopping cards benefit the American Cancer Society.
Other special events at the restaurant include Texas Chicken Fried Steak Day on October 26, 2012, when Carmelo's Italian Restaurant will serve chicken fried steak and a Wine & Food Pairing of Southern Italy and Sicily on November 16th, where guests can taste the unique cuisine of the regions of Campania, Basilicata, Puglia and Sicily, paired with outstanding wines of several recently visited wineries. For complete information about Carmelo's Italian Restaurant and all of the restaurant's special events, visit the Happenings page on the restaurant's website at http://www.carmelosrestaurant.com.
About the company:
For authentic Italian food in a place where customers are treated like family, visit Carmelo's Italian Restaurant, a 2012 Open Table Diner's Choice, which just celebrated 31 years in Houston. Carmelo's was founded by its namesake, Carmelo Mauro in 1981. The Authentic Italian restaurant features signature dishes such as Ossobuco, red snapper mango over risotto pancake, oysters with champagne reduction, and fettuccine Carbonara. Sensitive to client's wishes Carmelo has also introduced delicious Gluten Free and Vegetarian menus. The restaurant also offers a wide selection of wine, beer, cocktails and hors d'oeuvres. Carmelo's has been recognized for its impeccable selection of Italian and California wines and has received the Wine Spectator Award of Excellence numerous times. Carmelo's Italian Restaurant is located at 14795 Memorial Drive in Houston. For more information, call (281)-531-0696 or visit http://www.carmelosrestaurant.com.