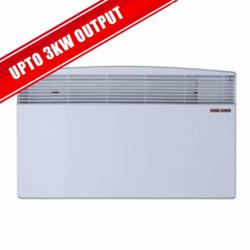 North Yorkshire, UK (PRWEB UK) 21 October 2012
CNM Online has brought out functional bathroom heaters designed with high quality electronics that would keep bathroom warm against the cold brutality of the fall and winter months. The flexible heater design is easy to use and is energy efficient appliance which will bring meaningful change in routine home chores.
Bathroom Heaters offer quick and readymade heating solution for the homes and offices. The custom heaters are affordable and portable electric appliance which will heat up the bathroom on those very frigid days and nights when one doesn't need to think too much on taking shower or going for the toilet. For the offices and households, who are desperate to have energy efficient heat and superbly warmed bathroom, installing the heater will be a completely objective view to take around.
Whether it is a new or old home, winters can just not spare the bathrooms from getting ice cold. The tiles used in bathroom are quite cold in winters and so are the marble and granite floorings. Windows or skylights in the bathroom allow heat to escape as the result of poor insulation. The heater will provide smart way keep the interiors of bathroom warm and at the room temperatures.
Some of the popular and featured bathroom heater models listed at CNM Online include StiebelEltron Wall Mounted Convector Heaters, Dimplex PLX 24hr Timer Panel Heaters, Dimplex Thermostatic Panel Heaters, Prestige All Electric Towel Radiator, SunhouseDownflow Bathroom Fan Heater 2kW, Prestige Towel Radiator Chrome, Diva All Electric Towel Radiator Chrome, Dimplex Downflow Fan Heater, Mirage Slim-Line Panel Heater, Sunhouse Panel Heaters, Sun House Electric Towel Warmer and several others.
CNM Online offers heaters for the bathroom installations and all the more warming different sizes of bathrooms. There are also specially designed wall mounted bathroom heaters. There are also sophisticated brackets and splash proof material which will provide compatible and functional electric add-ons. Many of the heaters come up with added towel rail which ultimately make it ideal for the room heating and also warming up the towels.
CNM Online has branded bathroom heaters which are designed to give best quality warming. Besides, there are exclusive heater accessories that can easily fit with any types of bathroom heaters and make the installation easy. Over the last years, CNM Online has increased the online inventory and added several range of electric and non-electric product line.
The products are given superb and high quality reviews. In order to hire technical support or want to know how to install the heater, ask for our assistance. Call any time and get instant help.
For instant details on the high quality bathroom heaters, click on the link: http://www.cnmonline.co.uk/Bathroom-Heaters-c-2308.html