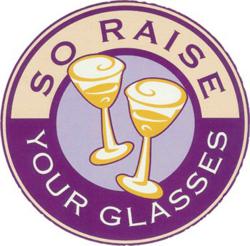 Our brilliant new website really captures the essence of our business - The Quality Celebration Store, with a truly quality website!
Taunton, Somerset (PRWEB UK) 21 October 2012
From small beginnings, the party and celebrations business run by husband and wife team, Gill and Philip Marshall, launched 8 years ago, has come a long way.
Entering the internet world was a decision taken years ago, but the latest website is a far cry from its earlier predecessors. By partnering with Taunton based Evosite, So Raise Your Glasses has taken a massive leap into the future.
It's new internet shop provides all its customers with much easier access to its extensive range of beautiful party and table decorations, and to suit the forthcoming festive season, a superb range of Christmas decorations.
"We set out from the beginning to be able to present what we think is a really lovely range of Wedding, Anniversary, Birthday and Christening decorations and gifts to the customer in a way that makes it all very easy to find," says co-owner and buyer Gill Marshall, "and so that customers can see exactly what they are buying. We feel we have achieved just that with this site, and our customers are telling us so already"
In an increasingly busy world where time is of the essence, it was important to So Raise Your Glasses to find a way for customers to see products within a couple of clicks of arriving at the site.
For those on the move, the company will launch a mobile version of the site within the next month.
"Great customer service is at the heart of what we do," says Philip Marshall, "and it's even easier to provide that now that we have so much more information about what is happening. It must be the Somerset air, we think, but we've always loved working in the rural environment we have here, and partnering with Evosite, who are also based here in Somerset, has been a real treat, because they have the same positive attitude to everything that we have ourselves"
So Raise Your Glasses has traded since 2004 and seeks to fill the quality end of the celebration market with decorations and tableware sourced primarily from selected UK suppliers.
They are always looking for excellence and for tasteful products that everyone would be proud to have at their celebration.
A few key items are imported because good alternatives just don't exist, like the stunning olive wood Nativity sets from Bethlehem, and the gorgeous Christmas Welcome Arches designed in Sweden.