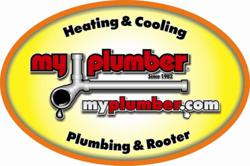 We are proud to be a part of Breast Cancer Awareness month to raise awareness about the risk of breast cancer. We have several employees with moms, best friends, and wives who were diagnosed- that's why we chose to support this cause
Fairfax, VA (PRWEB) October 19, 2012
My Plumber Heating and Cooling goes pink this October, launching a campaign in support of Breast Cancer Awareness month. Throughout October, My Plumber is donating $10 for every Heating Tune-up performed.
Fall is the best time of year to get your furnace checked- before it is turned on for the winter and you are left in the cold. Having your system checked annually ensures it operates more efficiently and detects small problems before they become expensive repairs. My Plumber Heating and Cooling guarantees its' Heating Tune-Ups to last all winter long or customers will receive their money back. The heating and air repair company also performs heat pump repair and furnace repair service to customers in Northern Virginia and throughout Maryland.
"We're turning up the heat on breast cancer," said Mark Presgrave, Vice President of My Plumber Heating and Cooling. "We are proud to be a part of Breast Cancer Awareness month to raise awareness about the risk of breast cancer. We have several employees with moms, best friends, and wives who were diagnosed- that's why we chose to support this cause."
The company kicked-off the campaign with a 100- person pink wave on Thursday, September 27, 2012, outside their main offices in Manassas, Virginia. The monies collected from the campaign go to breast cancer research, education, screening, and treatment programs to save lives of women and men in the community.
About My Plumber:
My Plumber Heating and Cooling, a family-owned and operated full-service heating, cooling and plumbing company since 1982, offers a complete range of residential and commercial services including furnaces, water heaters, drain cleaning, sump pumps, 2- day bathroom remodels, and more with a Same Day Service Guarantee. Serving communities throughout Northern VA and Maryland areas including: Arlington, Alexandria, Fairfax, Springfield, Bethesda and Silver Spring, My Plumber Heating and Cooling has won numerous awards including 2011 Top Contractor to Work For P&M Magazine, 2011 Finalist for National Capital Business Ethics Award, 2011 Washington Business Journals Top 10 Mechanical Contractors, 2011 Smart CEO for D.C. Metro Area Top 10 Executive Management Teams and 2011 PHC Magazines Top 100 Mechanical Contractors. For more information about My Plumber visit http://www.MyPlumber.com or call 866-779-7204.