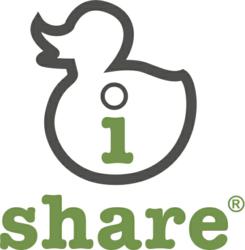 Giving back feels rewarding, and we want to share that feeling with all of our customers.
STOWE, VT (PRWEB) October 22, 2012
Image Outfitters has been providing custom promotional products for businesses around the world and proudly contributing to nonprofit organizations since its founding in 1998. During the economic downturn, the company noticed many worthwhile organizations suffering from under-funding and created iShare to combat the issue. iShare is a charitable donations program that allows Image Outfitters customers to help better their communities and the organizations they care about by donating a portion of their order's revenue.
Through iShare, Image Outfitters customers may direct ten percent of the revenue from their order to the 501 (c)(3) charitable organization of their choice. The first iShare donation was made in April of this year, and donations have since exceeded $7,000, while reaching a variety of organizations including LBA Children & Families Foundation, Stowe Youth Lacrosse League, and the Kiwanis of Little Havana Foundation.
"Giving back feels rewarding, and we want to share that feeling with all of our customers," says Esbert Cardenas, who co-founded Image Outfitters with his wife Kirsten Cardenas. "iShare provides an opportunity to not only feel good about your contribution, but to also see it in action in your community or any worthwhile cause where you choose to direct it."
Image Outfitters does not inflate prices in order to cover iShare's donations. In fact, Image Outfitters is willing to meet or beat any competitor's pricing before donating a percentage of order revenue to charity.
Image Outfitters was founded in Miami in 1998, but relocated to Stowe, Vermont in 2008 after the Cardenas family visited the area and fell in love with the Vermont community.
For more information on iShare visit http://www.iShareWorks.com
###
Image Outfitters specializes in promotional products for businesses and organizations of all sizes with offices in Stowe and Miami. With over 14 years of experience serving a diverse client base, Image Outfitters is prepared to provide exemplary customer service and order customization for every client, regardless of size.
To learn more go to http://www.image-outfitters.com and Facebook and follow on Twitter @ImageOutfitter
About iShare: iShare is a charitable donations program that was founded in early 2012 by Image Outfitters. Ten percent of revenue from orders of promotional products from Image Outfitters may be directed to the 501 (c)(3) nonprofit organization of the client's choosing.
Visit http://www.ishareworks.com, follow on Twitter @iShareWorks and 'Like' on Facebook at http://www.facebook.com/ishareworks for updates and additional information