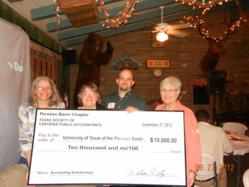 Dallas, TX (PRWEB) October 19, 2012
In September, the Permian Basin chapter of the Texas Society of CPAs (TSCPA) hosted its 26th annual Shrimp Boil for its chapter members with TSCPA President-Elect Willie Hornberger, CPA as the special guest speaker. The chapter presented the University of Texas -- Permian Basin (UTPB) with a $10,000 check for accounting scholarships. Odessa College, Midland College and Howard College were each awarded $1,000 for accounting scholarships. A picture of the check presentation is included below.
ABOUT PERMIAN BASIN CHAPTER OF TSCPA
The Permian Basin Chapter of TSCPA is a nonprofit, voluntary, professional organization representing CPAs in the Permian Basin area. The Permian Basin Chapter has approximately 450 members. The chapter is committed to serving the public interest with programs that advance the highest standards of ethics and practice within the CPA profession.