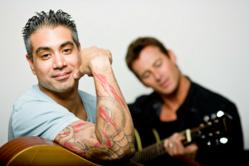 My passion with teaching is to help people command authority over the guitar and to find their voice over their instrument.
Weston, FL (PRWEB) October 20, 2012
The benefits of listening to and playing music are far-reaching. Music can help people cope with pain, lift one's spirits, improve motor skills, encourage exercise, and more. As Martin Luther said, "Beautiful music is the art of the prophets that can calm the agitations of the soul; it is one of the most magnificent and delightful presents God has given us." Start the school year off right with music lessons - and a special back to school discount!
Dyce Kimura wants to share his passion for music with children and adults alike, and is offering back to school lessons in voice and guitar! He is a Weston guitar teacher and gives beginner guitar, electric guitar, and acoustic guitar lessons. His approach to teaching music is different from that of every other teacher's. He believes that anyone with the desire to learn how to play the guitar can learn. Dyce is offering a back to school discount for new students of $100 off 10 lessons. The normal cost is $600, but with this special discount the price is $500, which also grandfathers students in at this price for every time that they renew their lessons.
From the first lesson, Dyce works on getting to know his students - what styles of music they want to learn to play, what their favorite songs are, and why they've chosen to play the guitar. He begins by teaching the fundamentals and then helping students learn how to play the songs and styles that they want to learn as quickly as possible. He coaches one-on-one. His goal is to have students play with authority on the guitar, which encompasses skills that include ear training, improvisation, and learning how to interpret songs musically.
Students will be playing from the first lesson, beginning with basic chords, before moving on to putting chords together to form songs. Within the first few months of lessons, Dyce's students will learn some basic improvising and soloing techniques as well. Dyce doesn't rush students through lessons; instead, he allows them to work at their own pace and teaches them according to the speed they are comfortable at. He tailors lessons according to pace and skill level for the individual student.
Lessons cover a wide range of topics and skills, including reading sheet music and tabs, learning songs by ear and ear-training, basic and advanced chords, songwriting, and more. He teaches everything from rhythmic and chord structures to stage presence and how to choose and use the right music equipment.
Lesson locations are not limited to Weston - Dyce also teaches in Fort Lauderdale, Parkland, and cities in the Broward and tri-county area. He realizes that some may not have the mobility to travel to these cities, or may prefer a different way of learning, so he also teaches lessons over Skype and on DVD.
Dyce sums up his teaching method when he says, "From your first lesson, I will have you playing. And, I will inspire you to keep on playing. The guitar is not an easy instrument to play; but if you aspire to be an accomplished player; I can get you there."
For more information, visit Dyce's website at http://www.dycekimura.com or call him at 786-457-3687.