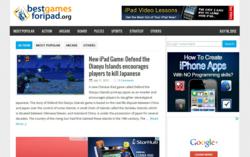 At BestGamesForiPad.org, visitors will find a world of information about their favorite iPad games, The most popular titles, as discussed individually and comprehensively on the website
Phoenix, AZ (PRWEB) October 22, 2012
One of Apple, Inc.'s remarkable creations is the iPad. Now on its third generation, the line of tablet computers continues to provide media rich content such as books, magazines, websites, movies, music and apps.
Along with the unprecedented rise of the iPad's popularity came the iPad users' deep fascination for games that can be played on one of the most innovative gadgets of our time. Today, the iTunes app store continues to add new titles each day to the thousands to choose from.
BestGamesForiPad.org is a website that focuses on iPad games, covering a wide range of types and genres that include action, arcade, board, puzzle, sport and strategy. The online resource on the best games for iPad features some of the interesting game apps that are going through the roof and monopolizing users' lounging time.
At BestGamesForiPad.org, visitors will find a world of information about their favorite iPad games, The most popular titles, as discussed individually and comprehensively on the website, include Batman, The Act, Death Spank, Defend the Diaoyu Islands, Bubble Blast, Robosockets: Link Me Up, 3 Armies and Lead Wars, Little Turbulence and Blot, 1 Minute RPG, Ocarbota, Battleloot Adventure, Demolition Master, Avenger, Turtle's Tale: Runaway, Quizboard, Ski Safari, Majesty, The Fantasy Kingdom, Mega Run, Watchdog, Autumn Dynasty and Burnout Crash.
Keeping the iPad games landscape interesting, BestGamesForiPad.org offers a list of the top free iPad games on a weekly basis. The weekly feature highlights the free best games for iPad that have been made free in the last 24 hours.
As prices in the app store are prone to change, the website entices gamers to should grab the freebies before they miss out on the top bargains.
Enabling the iPad users to easily find the iPad game type that they are searching for, BestGamesForiPad.org comes with an integrated search featured where titles or topics can conveniently be queried.
To know more about the most popular and best games for iPad, please visit http://www.bestgamesforipad.org for information.
ABOUT
BestGamesForiPad.org is a website that houses a wealth of information about the many games that can be downloaded and played on iPad. It enables visitors to find out the most popular games of various genres.