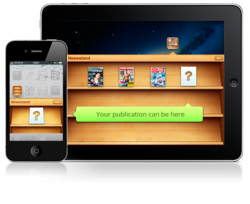 The MediaNext conference will be an excellent opportunity to showcase our revolutionary development platform to leaders in the media industry," said Sean A. Foley
New York, NY (PRWEB) October 23, 2012
TapEdition, the leader in cross-platform tablet publishing, will be an exhibitor at the MediaNext 2012 conference at the Times Square Marriott Marquis in New York City from October 29th - 31st.
"The MediaNext conference will be an excellent opportunity to showcase our revolutionary mobile app development platform to leaders in the media industry," said Sean A. Foley, TapEdition's Sales Executive. "I am looking forward to demonstrating how our development team can partner with publishers to simultaneously increase circulation and advertising revenue by placing their content onto the Apple Newsstand and Google Play."
The conference will provide an opportunity for publishers to get a hands-on look at TapEdition's digital publishing development solution for tablets and smartphones.
During the course of the trade show, prospective clients will be afforded the opportunity to view TapEdition's current portfolio and speak with the sales team and chief developer about the product. "Our business model is based on building close relationships with our clients to fully understand their needs from Day One," says Foley. "By partnering with TapEdition, clients receive exceptional added value from our interactivity capabilities and unique expertise on the mobile marketplace. We are completely dedicated to making your app a success, as well as helping you achieve the maximum ROI that is available from the mobile sphere."
TapEdition will also be offering special trade show discounts on-site. Potential clients will have the opportunity to place a deposit and save a significant portion on the total cost of production.
TapEdition will be located at Booth 305 on the trade show floor.