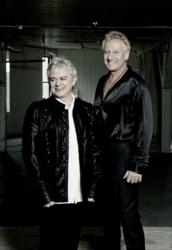 Modesto, CA (PRWEB) October 22, 2012
For some fans it may seem like only yesterday that Graham Russell and Russell Hitchcock of Air Supply stormed up the record charts with their debut hit single, "Lost in Love." But in fact the best-selling soft rock stars have been around for more than 35 years—and they are still inspiring waves of romantic frenzy around the world.
The duo will make their debut at the Gallo Center for the Arts on Sunday, November 4 at 7 pm. Tickets are on sale now and range from $19 to $69. Groups of 15 or more are eligible for a 15% discount. For tickets and more information, visit GalloArts.org or call (209) 338-2100.
Air Supply's classic hits include "All Out of Love," "The One That You Love" and "Making Love Out of Nothing At All." These and other recordings are still used regularly on TV commercials and movie soundtracks.
The duo's performance at the Gallo Center will also feature selections from their most recent CD, "Mumbo Jumbo," an ambitious 'concept 'album released in 2010. Russell and Hitchcock believe the album, which includes the infectious pop rocker, "Dance with Me," is their best ever.
The Gallo Center for the Arts' 2012-13 Premier Partner is Boyett Petroleum.