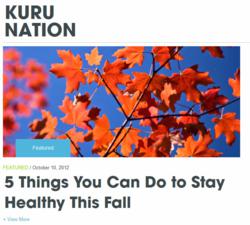 "We know our customers often seek KURU shoes because they want to stay healthy and active. By creating a valuable information resource through the blog, customers can learn and engage with topics that are important them."
(PRWEB) October 21, 2012
KURU Footwear, a B2C, web-driven footwear brand, recently launched the KURU NATION blog. Through regular communication, KURU has found their customers are generally engaged in maintaining a healthy and active lifestyle. The KURU NATION blog is curated by an editorial staff to further connect with their customers by providing valuable information on such varied topics as health, fitness, nutrition, outdoors, and travel.
KURU Footwear, a young, independent company, has amassed a loyal following. KURU leverages social media and other communication channels to learn about those seeking their products and where their interests lay. Through KURU NATION, the company provides dynamic, compelling and original content on the topics customers are researching regularly.
"We want to give our readers information on the topics they are inquiring about," said KURU Editorial Manager, Ben Vaughn. "We know our customers often seek KURU shoes because they want to stay healthy and active. By creating a valuable information resource through the blog, customers can learn and engage with topics that are important them."
In order to create the best possible content for KURU NATION, the company has gathered an arsenal of contributors with expertise in the blog category topics. KURU NATION's contributors provide diverse insights and opinions. Readers should expect to find current, thoroughly researched and original posts on such diverse topics as organic foods to the best hiking trails for your next trip and exercise tips to recent KURU shoes reviews.
KURU works to develop loyal relationships with their customers through personalized, world-class customer service experiences. With the addition of KURU NATION, the company is able to further respond to customer interests. The resources provided on KURU NATION will be instrumental in helping to maintain a healthy, active life.
KURU NATION is an extension of KURU's ecommerce site, kurufootwear.com. To visit KURU NATION, go to: http://www.kurufootwear.com/blog