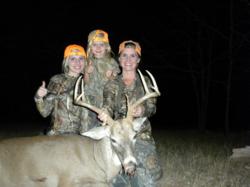 My girls love hunting and this gives them a platform to show other kids that they can do it too.
Coudersport, PA (PRWEB) October 22, 2012
An up-and-coming TV show now has a new website to match.
Triple Mag, a hunting reality show that features expeditions with a mother and her two young daughters, has a brand new and official website, http://www.triplemagtv.com.
Gina Fantaskey, mother and main cast-member on the show, said the new site was needed as the show continues to gain popularity. Best of all, the site represents her, her daughters and the show perfectly.
"I like it," said Fantaskey, whose daughters, 17-year old Alyssa and 9-year old Madison, have accompanied her on big game hunts across the world. "It's very outdoorsy, like we are, and represents us well. The site gives you a feel of what we're like."
With a gallery page that holds over 65 updated photos and 20 videos, which include full episodes of their TV show shown Sundays on Root Sports TV, it brings fans right along on their hunting adventures. The home page also features a sidebar of their Twitter and Facebook page, which has over 1,300 likes, and the new site holds official Triple Mag gear, includeing trucker hats, beanies and sweatshirts.
"People who have gone on to the site have given very positive feedback," Fantaskey said.
They've given positive feedback to the show too.
The newly designed site comes at a time where Triple Mag is set to be broadcast on the Sportsman Channel, which reaches more than 32.1 million households in the U.S. and is carried by providers Dish Network, Cablevision, Comcast, Direct TV and Verizon Fios just to name a few.
Right now, the Triple Mag clan has an exciting couple months ahead of them. The girls are preparing for a two month hunting trip to Illinois, Nebraska, Kansas, Oklahoma and even Florida, where they will get a change to hunt gators. Think about it, a 9-year old and 17-year old set of sisters hunting dangerous gators with their mother. That makes for interesting TV.
For years, hunting is a sport that's been dominated by males. But these three, including little Madison who has over 29 kills to her credit – 18 with a crossbow – is out to prove woman can do anything that men do, sometimes even better.
"My girls love hunting and this gives them a platform to show other kids that they can do it too," Fantaskey said. "It shows them if we can do it, girls their age can do it too."
About Triple Mag and triplemagtv.com: Triple Mag is a ground-breaking TV show about a mother, Gina, and her two young daughters, ages 9 and 17, who are avid hunters. The show follows the gang as they head on exciting big game hunts across America, dealing with adversity of being young, female hunters in a sport dominated by men.
The show is featured on Root Sports, Sunday's at 9 a.m., and in 2013, will be shown on the Sportsman Channel, which is broadcast in over 32 million American households. For more information, visit their website at triplemagtv.com.