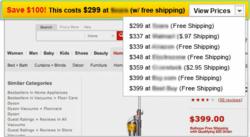 Any business offering coupons to consumers must find a way to maintain a consistent presence on their desktops browsers. Cash back add-on development is a tried and tested way to do this
(PRWEB) October 23, 2012
According to research firm Nielsen, internet redemption of coupons has skyrocketed since 2009 with a 263% growth. With a record number of shoppers couponing and those that use coupons online found to spend 49% more per year than regular shoppers, finding a way to tap into the savvy shopping habits of cash back and coupon users is a business critical mission.
As add-ons and browser toolbar experts, Besttoolbars works with more than 7000 brands. It has recorded a notable growth in the use of add-ons for customer retention and increased purchase purposes. In its studies, it found that an average of 2.3% of previous customers would install a browser add-on initially. Following this action, data from the study confirms that users with the add-on present on their browser toolbar use the service an average of 47% more than those customers who do not install a branded browser add-on.
With a recent "Digital Coupon User Shopping Behavior" study revealing that the dedicated coupon user spends approximately $3,803 a year - compared with $2,545 for an average shopper- an add-on presence can prove to be extremely lucrative.
Vladimir Zhukov, Besttoolbars Head of Marketing said, "Any business offering coupons to consumers must find a way to maintain a consistent presence on their desktops browsers.Cash back add-on development is a tried and tested way to do this."
"We have helped many cash back and fundraising companies to increase revenue by developing browser toolbars, add-ons and extensions. Increasingly, we are finding that businesses operating in the couponing and cash back sectors are keen to try new technologies and typically they will see a very strong ROI when using add-ons as part of their marketing strategy."
Unlike many developers, Besttoolbars doesn't build add-ons from scratch. It uses its own proprietary browser add-on framework to reduce development time, keep costs low and improve cross-browser compatibility. This makes add-on development much quicker, allowing coupons to be developed and delivered in a shorter, more efficient timeframe.
Built using common technologies such as HTML, Java Script and CSS, cash back add-ons by Besttoolbars work seamlessly across all five main browsers; Internet Explorer, Firefox, Chrome, Safari and Opera.
Cash back add-on development can also be tailored to the specific needs of each couponer with a useful geo targeting function which pinpoints the geo location of the user to show the nearest available offers. The add-on can also access browser history, tapping in to the user's shopping habits to determine which coupons and offers are of most interest. Push notifications can also be integrated, allowing hot deals to be sent to the browser's desktop, even if the add-on is not being used. Integration with affiliate networks is an additional way to utilise the add-on to its maximum capability – it can interface with networks such as Commission Junction and LinkShare to turbo-charge coupon offerings. All of this capability can also be combined with the brand new mobile apps development service announced recently by Besttoolbars, allowing for additional market expansion and penetration which directly impacts the bottom line.
To find out more about cash back add-on development, please visit http://www.besttoolbars.net
About Besttoolbars: Besttoolbars is a company well known for creating browser toolbars and add-ons. It has worked with an array of global brands, from start-ups to high-profile Fortune 500 corporations including Amazon, Skype, IBM, DHL, TNT and Intel. More than 7000 companies currently use solutions created on the Besttoolbars platform. Its product line includes:
Toolbar Studio: IDE for designing toolbars for Internet Explorer and Firefox
Add-ons Framework: Framework for building add-ons for Internet Explorer, Firefox, Chrome,
Safari, and Opera
AppsGeyser: The fastest growing DIY platform for building mobile apps
DeskAlerts: One-way instant desktop alert notification system