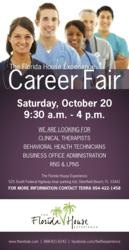 This is going to be an exciting opportunity for us to grow once more and find highly qualified people that like to help people find a new way of life
Deerfield Beach, FL (PRWEB) October 19, 2012
Florida House Experience has proven to be one of the premier drug treatment centers in South Florida for over 20 years. From a humble beginning as a small sober living program, The Florida House has continued to grow and expand in to many additional addiction services. To go along with that growth, staffing levels have naturally increased. With their latest expansion coming soon, the team at Florida House Experience is offering a Career Fair on Saturday, October 20, 2012.
"With so many people seeking employment, we are proud to be sharing our growth with the South Florida community" says Jennifer Lorey, Clinical Director. Plans to meet and interview potential candidates are scheduled for 9:30 a.m. and will run until 4:00 p.m. on Saturday. The drug rehabilitation center in Florida is seeking Clinical Therapists, Behavioral Health Technicians, Business Office Administrators, Registered Nurses and Licensed Practical Nurses. Candidates should arrive ready to interview with resumes in hand. "This is going to be an exciting opportunity for us to grow once more and find highly qualified people that like to help people find a new way of life" said Lorey.
The career fair will be held at The Florida House Experience located at 525 South Federal Highway in Deerfield Beach, FL. More information can be obtained by calling Terra at (954) 422-1458.
The Florida House Experience is a licensed, CARF (Commission Accreditation of Rehabilitation Facilities) accredited, residential treatment facility and sober living community. The facility also offers a spa-like wellness center on-site. Their exceptional team of highly experienced, certified clinical and medical professionals is skilled in all areas of medical and drug rehab and dedicated to helping you to live and lead a sober way of life as a natural way of life. Florida House Experience clients come from all across the United States to the recovery capital of the world to begin anew. The facility also offers a spa-like wellness center on-site. If you need additional information about the treatment programs offered at The Florida House Experience, contact 866-421-6242 or visit their website at: http://www.FloridaHouseExperience.com