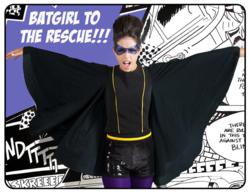 Los Angeles, CA (PRWEB) October 20, 2012
Halloween is just around the corner and FashionClub.com has three ultra-creative Halloween costume ideas inspired by superheroes: Batgirl, Poison Ivy, and Harley Quinn. Top students at FIDM/Fashion Institute of Design & Merchandising teamed up with FIDM's FashionClub.com, the college's popular site for teens, to create these super cool looks for Halloween.
Batgirl: The female counterpart to Batman, Batgirl is a crime-fighting super heroine. Don cape-like sleeves, sequin hot pants, purple tights, and over-the-knee boots, and be ready to attack – in style! Tease and wear your hair up in a modified French twist and use purple face paint to create an eye mask.
Poison Ivy: A dangerous enemy of Batman, Poison Ivy is an eco-terrorist who uses plant toxins to control others. To get this look, wear a gorgeous green gown accessorized with golden leaves that can be spread out on the dress and in your hair. Use a temporary red hair color for your locks and some light red shadow from the hairline down to your cheekbones.
Harley Quinn: This good girl gone bad has an on and off relationship with the Joker, but there's nothing funny about this chic look. A sleeveless gown cinched with a studded black belt, white ruffled collar, striped tights, and short red gloves will help you channel this superhero. A white wig with ringlets will help complete the look.
FIDM's FashionClub.com also has stories on the hottest teen fashion and jewelry trends, runway looks, prom hairstyles, DIYs, dress for less tips, cute clothes, and beauty trends like smokey eyes. The site hosts contests to win prizes and scholarships to attend FIDM. There's also fashion career information, interviews with leaders in the industry, and inspiring stories from fashion design students and famous FIDM alumni like Monique Lhuillier, and even a sketch school tutorial.
FashionClub.com is sponsored by FIDM/Fashion Institute of Design & Merchandising—a fabulous fashion college with campuses in four major cities in California: Los Angeles, Orange County, San Francisco, and San Diego.