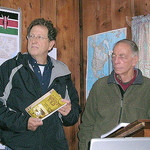 Thousands and thousands of orphans, street children, earthquake victims and youth have been touch and empowered by God's love.
Fayetteville, Arkansas (PRWEB) October 26, 2012
If you are looking to get involved with social causes that is touching youth and nations look no further. Thousands and thousands of orphans, street kids, earthquake victims and youth have been touch by God's love over the past 20 years by YWAM Heredia's volunteers. Strategically located near San Jose, Costa Rica the training center tirelessly train young people to make a difference locally and internationally.
The Environment and Resource School (EARS) trains young men and women in skills to impact communities in Nicaragua, Kenya and Peru. After three months of intense training in water management, organic food production, erosion prevention and energy conservation the poor of targeted communities have new hope. Local sustainability is just a part of every school. The EARS program is granted college credit by many universities and colleges. Purchase Don's book: Mission Wild: One Man's Adventure in Saving the Planet via Amazon.com.
If you know of someone desiring to give 6 month of their live to touch the desperate poor, check out their web site. Mission Enablers Int'l Support Development Service, a non-profit charity assist applicants in building the funding for the full tuition, travel and living expenses.
Don't just say, I wish I could do something to make a difference... just decide... get involved!
Check the new web site out, volunteer or go online an apply. The desperate poor are waiting. You can make a difference.
Art Westwood, a businessman for MT says, The EARS school is an answer to develop my interest in outdoors, wildlife, and the environment so that I can serve God.
For more info contact: andy(at)heavenup(dot)com