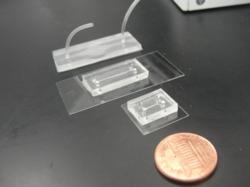 "Our device is designed to be the most biologically realistic model of brain tissue developed in the lab thus far," says Achyuta.
CAMBRIDGE, MA (PRWEB) October 23, 2012
Scientists may one day study neurodegenerative diseases like Alzheimer's or stroke using a "brain-on-a-chip," under development by Draper Laboratory and the University of South Florida (USF).
"Our device is designed to be the most biologically realistic model of brain tissue developed in the lab thus far," says Anil Achyuta, Principal Investigator for the project at Draper. "We have the potential to revolutionize how scientists study the effects of drugs, vaccines, and specialized therapies like stem cells on the brain."
Their work was published September 26th online in the journal Lab on a Chip.
Tens of millions of people worldwide suffer from neurodegenerative diseases, which typically involve a dysfunction in the crosstalk between the brain and the circulatory system.
This interaction relies on the efficient operation of what is known as the neurovascular unit -- the specific brain and vascular cells that exchange nutrients, oxygen, and dispose of chemical waste to keep the brain functioning.
By combining innovations in cellular neuroscience, tissue engineering, and microfluidics, the prototype "brain-on-a-chip" attempts to mimic the neurovascular unit and represents a more realistic model of brain tissue.
To create the device, USF senior Richard Crouse, part of a team under the guidance of Achyuta, cultured neurons, astrocytes, and microglia (basic brain cell types) and brain endothelial cells (vascular cells) from rats on two specially designed microfabricated layers.
These neural and vascular layers were then assembled together, allowing the cells to actively communicate across a microporous membrane. A microfluidic pump was used to circulate nutrients, stimulants, or therapeutics across the vascular channels simulating blood flow.
Crouse won the "Excellence in Undergraduate Research Award" for his work on this project at USF this past April.
"In our system, you have exquisite control over each compartment," says Achyuta. "In addition to screening drugs, we could potentially block vascular channels and mimic stroke or atherosclerotic plaque. Furthermore, this platform could eventually be used for neurotoxicology, to study the effects of brain injury like concussions, blast injuries, and implantable medical devices such as in neuroprosthetics."
The group is working on including two additional cell types not present in the original device, investigating the shear stress effects of blood flow on the cells, and looking to improve the component materials.
They plan on switching from rat embryonic cells to human cells in the near future.
This work will be a part of Draper's BIO-MIMETICS program, a DARPA funded project undertaken in collaboration with MIT, which aims to one day combine a networked system of microdevices into a "human-on-a-chip" for the rapid testing of new drugs and vaccines.
Draper Laboratory
Draper Laboratory is a not-for-profit, engineering research and development organization dedicated to solving critical national problems in national security, space systems, biomedical systems, and energy. Core capabilities include guidance, navigation and control miniature low power systems; highly reliable complex systems; information and decision systems; autonomous systems; biomedical and chemical systems; and secure networks and communications.